CanSino: Beijing rolls out inhaled vaccine during its biggest Covid surge ever | Society
Amid the worst Covid surge to hit Beijing since the start of the pandemic, the city is offering residents a new inhaled vaccine, the first of its kind according to local press reports. Chinese public health authorities approved the booster drug in September for emergency use by adults over the age of 18. It has been available in Shanghai since the end of October, and is also used in a handful of other Chinese cities. The inhaled vaccine was rolled out in Beijing last week, where the daily number of infections continues to climb since the 20th National Congress of the Chinese Communist Party ended in late October. Many housing blocks have been locked down, and schools, stores and restaurants have been closed in some city districts.
The whitish vaccine mist is contained in a plastic cylinder with a straw through which it is inhaled and held in the lungs for five seconds. "The taste is quite good," said one Beijing resident interviewed by the state-owned CCTV television broadcaster. "It's a little sweet and fragrant. It doesn't make you gag" he added. Another recent user told Hong Kong's South China Morning Post: "It's like drinking a cup of milk."
The drug was developed by CanSino Biologics, a Chinese company based in Tianjin that developed one of the injected coronavirus vaccines already in use. The inhaled drug is similar to the injected form of the vaccine in that it uses a common cold adenovirus vector to introduce coronavirus genetic information into human cells. Unreviewed studies published in The Lancet in January indicate that Convidecia AirTM, as the vaccine is called, may be effective as a booster. CanSino's Condvidecia injectable has been approved for use in more than a dozen countries, including Hungary, Argentina, Mexico and Pakistan, according to the Associated Press news agency. The inhaled vaccine will only be administered to adults who have received two injections of an inactivated vaccine or one injection of CanSino's adenovirus vector-based vaccine, according to China's official Global Times daily newspaper.
Beijing is hoping the inhaled vaccine rollout will help revive stagnant booster numbers amid a surge of coronavirus infections that recently reached 28,000 new cases. Covid boosters have been available in China since mid-2021, and 890 million have been administered to 63% of the population, according to official data from early November. Despite being the most vulnerable population, only 40% of people over 80 in China have received a booster, compared to 84.5% of those over 60 in the European Union.
China does not offer any messenger RNA vaccines, considered more effective than inactivated virus or adenovirus vaccines. During German Chancellor Olaf Scholz's controversial visit to Beijing in early November, he managed to extract a tepid commitment from Chinese authorities to evaluate the Pfizer-BioNTech vaccine for expatriates living in China. Scholtz said he was confident that this was a first step towards wider approval, although other European diplomatic sources remain skeptical.
China is one of the few countries in the world and the only major power still clinging to a strict zero Covid strategy that involves mass testing, total or partial lockdowns of cities when the first few cases are detected, and rigorous technology-driven case and contact tracing that seem like something out of a science fiction movie.
Beijing records first China Covid deaths in six months
A dark cloud hangs over Beijing these days – all anyone talks about is Covid and its daily toll. The megacity of 21 million people now has more than 1,400 new cases every day, the highest daily number ever, and just reported China's first three Covid-related deaths in the last six months. Before that, the most recent fatality occurred on May 26 in Shanghai during a surge that ripped through the financial metropolis and closed it down for more than two months. Chinese press reports say that the three who recently died in Beijing were between 87 and 91 years old and all suffered from pre-existing conditions.
"The city is facing the most complex and serious prevention and control challenge since the initial coronavirus outbreak," said Liu Xiaofeng, deputy director of the Beijing Municipal Center for Disease Control and Prevention, in a public statement reported by Reuters. The outbreak is concentrated in Chaoyang, a district with many foreign embassies and office buildings, and home to about 3.5 million people.
China seems to travelling through uncharted territory as it tries to balance its "dynamic" zero Covid policy and the progressive easing of restrictions it euphemistically calls "optimization." In mid-November, the government approved a number of Covid-related measures including relaxing quarantine requirements for international travelers and those who have had close contact with an infected person. During the presentation of these new measures, Chang Jile, deputy director of the National Administration for Disease Control and Prevention, stressed the need to "accelerate" immunization and booster shots, especially among the elderly. "They are the ones who need it the most," he said, and called on them to get vaccinated and disregard "internet rumors and disinformation."
It's not clear how this Covid balancing act will be influenced by President Xi Jinping's attendance of the G-20 summit in Bali and the Asia-Pacific Economic Cooperation summit in Bangkok, where he met with dozens of world leaders without wearing a mask. John Lee, head of the Hong Kong government, tested positive for Covid after attending the summit in Bangkok, where he was seated next to Xi. Neither one was wearing a mask. The Chinese leader didn't leave the country throughout most of the pandemic and only recently began to travel abroad. His attendance at the two summits followed a September visit to Kazakhstan and Uzbekistan where he met with Russian President Vladimir Putin.
Sign up for our weekly newsletter to get more English-language news coverage from EL PAÍS USA Edition
Uganda condemned for 'shameful' decision to close UN human rights office | Global development
Rights activists and campaigners have condemned the Ugandan government's decision to shut down the country's UN human rights office, describing it as "shameful".
In a letter to the Office of the UN high commissioner for human rights (OHCHR) in Uganda dated 3 February, the foreign affairs ministry said it will not renew the host country agreement it signed with the OHCHR, which established its initial mandate in the country in 2005. The current mandate, signed on 9 February 2020, expires in August.
"The government of Uganda will now continue its cooperation with the OHCHR Headquarters either directly or through its Permanent Mission in Geneva," reads the letter.
The development comes less than three months after the UN's committee against torture adopted the concluding observations on Uganda, which raised concerns that torture and ill-treatment continued to be frequently practised, and called for investigation and prosecution of security officials accused of excessive use of force, violence and arbitrary detention.
"The closure of the @UNHumanRightsUG office proves that [the] government has lost all sense of shame. It no longer wants any close international scrutiny of its human rights record," tweeted Adrian Jjuuko, executive director of the Human Rights Awareness and Promotion Forum.
"If the protectors are sent away, what then happens to those they were protecting? We are headed for tough times," he added.
Bobi Wine, the reggae singer turned Ugandan opposition leader, whose supporters remain in unauthorised places of detention or "safe houses", said it was no surprise that Uganda's president, Yoweri Museveni, who has been in power since 1986, has closed the OHCHR. He tweeted: "In the face of growing international condemnation and isolation, tyrant Museveni has responded by shutting down NGOs, Facebook, DGF [Democratic Governance Facility] & declaring several internationals Persona Non-Grata or deporting them! Now he shuts down @UNHumanRightsUG."
Wine added: "You'll recall in the aftermath of the 2021 election and the hundreds killed or abducted by the Museveni regime, we petitioned the UN Human Rights Office & the military brutalised journalists right there. This UN Office condemned these actions. Not surprising it's being closed."
Human right activists and advocacy groups have called the decision a "mockery" and accused the government of running from international scrutiny on abuse and protection of human rights.
"This is unbelievable, and the reasons given by the government are a mockery of the real state of human rights in the country," said Jjuuko. "To claim that Uganda no longer needs the office [OHCHR] because of its strong stand for human rights is ironic to say the least.
"A strong stand for human rights would imply opening up to the UN and other actors."
David Livingstone Sewanyana, founder of the Foundation for Human Rights Initiative in the capital, Kampala, told the Guardian, "The decision not to renew the mandate deprives Uganda of a critical player in the field of human rights promotion and protection."
At least 38 local and international staff at the head office in Kampala and two field offices in Gulu and Moroto stand to lose their jobs.
Jjuuko said: "Following closely on the closure of the DGF, this is a scary move which indicates that the government is no longer willing to have its human rights record scrutinised by international actors.
"This leaves local organisations at much more risk of being further silenced and their work curtailed without the government fearing close international security. It is a sad day indeed for the human rights movement in Uganda."
2023 State of the Union address, live | Biden will call for collaboration with Republicans | USA
On the List: Biden's guests at the State of the Union address
In the highly theatrical ritual of the State of the Union address, delivered each year by the President of the United States to a joint audience of congressmen and senators on Capitol Hill, the most eagerly awaited list in the hours leading up to the address is that of those invited by the President himself to attend his speech on the floor of the House of Representatives. They are carefully chosen to underscore with their presence the points the president wants to emphasize. This year they range from rock stars (Bono) to anonymous citizens unwittingly placed at the center of a whirlwind of tragedy and media attention, such as the parents of Memphis teen Tyre Nichols, the latest name to enter the history of police brutality infamy in the country.
 
What follows is a list of some of those illustrious guests at tonight's speech in Washington: 
Bono. Singer of the Irish band U2 and activist for the most varied causes, for whose fight he deploys his worldwide fame.
Oksana Markarova, the Ukrainian ambassador to the United States. She was already invited last year, when Biden's first speech came six days after the Russian invasion of Ukraine. Nearly a year later, the end of the war seems far off, but the U.S. commitment to Kiev's cause remains unwavering.
Row Vaughn and Rodney Wells, mother and stepfather of Tyre Nichols. Five police officers beat him to death last month in Memphis. His case, and the poise of his parents, have reopened the debate about police brutality in the United States, an issue that seemed on the mend after the chokehold death of African-American George Floyd at the hands of a white Minneapolis police officer on May 25, 2020. 
Brandon Tsay, another anonymous man at the center of American political power. Tsay disarmed the killer of 11 people in one of the latest mass shootings to horrify the country. It happened in Monterey Park, California, and the tragedy ripped the Asian American community in half. 
Deanna Branch. Lead was found in her son's blood because of water coming out of the home's plumbing. The Biden Administration has set a goal of replacing all lead pipes in the country within the next decade.
Mitzi Colin Lopez. Immigrant rights activist, specializing in advocacy for dreamers.  
Doug Griffin of Newton, New Hampshire. Lost a daughter to a fentanyl overdose. Biden plans to stress the importance of the fight against opioids. The drugs have taken the lives of 100,000 Americans by 2022.
Amanda Zurawski, Texas neighbor. She almost died because of restrictive anti-abortion laws that came out of the Supreme Court ruling that eliminated a woman's federal right to choose.
High-profile lawsuit against Meta can be heard in Kenya, Nairobi court rules | Global development
A Kenyan court has ruled that a case brought against Facebook by a former content moderator can go ahead.
Daniel Motaung, who was hired as a Facebook content moderator by the tech firm's subcontractor Sama in 2019, filed a suit against the two companies last year, alleging that he had been exposed to graphic and traumatic content at work, without adequate prior knowledge or proper psychosocial support – which he says left him with post-traumatic stress disorder.
He also claimed he was unfairly dismissed after trying to unionise his co-workers to fight for better conditions.
Facebook's parent company, Meta, contested its involvement in the case, saying that Sama was Motaung's employer, and Meta could not be subjected to a hearing in Kenyan courts because it was not registered, and did not operate, in the country.
However, on Monday the judge found that the tech giant was a "proper party" to the case.
The Kenya employment and labour relations court is yet to release its full ruling on Motaung's case, but the decision – the first of its kind in Africa – is already being hailed as a win for the accountability of big tech on the continent, and in the global south.
"If the attempt by [Meta] to avoid Kenyan justice had succeeded, it would have undermined the fundamental tenets of access to justice and equality under the law in favour of foreign privilege," said Irũngũ Houghton, executive director of Amnesty International Kenya.
"We finally have an avenue for accountability," said Odanga Madung, senior researcher for platform integrity at Mozilla. "It calls for tech giants to make serious changes within their companies that take into consideration their workers and users outside the US and Europe."
Cori Crider, director of Foxglove, a UK tech justice non-profit, which supported the Motaung case, said social media platforms should not outsource critical online safety functions like content moderation. "It is the core function of the business. Without the work of these moderators, social media is unusable. When they are not able to do their jobs safely or well, social media's safety brutally falters."
Meta is facing a second court case in Kenya, which was due to be heard this week but has been postponed. It was filed by two Ethiopian petitioners and a Kenyan rights advocacy group, Katiba Institute, who claim that the company failed to take online safety measures to manage hate speech on the platform during northern Ethiopia's civil war – which they say fanned the conflict, with serious offline consequences.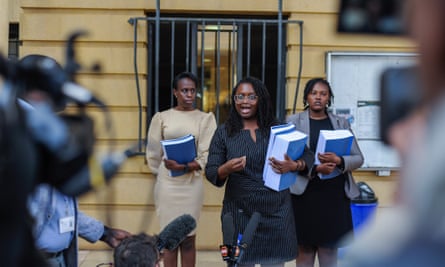 The father of one of the petitioners was killed after a violent Facebook post that was reported, but not acted on in time. The petitioners claim that Facebook also failed to recruit enough moderation staff to its regional hub in Nairobi.
"There are problems with Facebook's woeful failure to value or to staff content moderation outside of the English-speaking United States," said Crider, adding that Monday's ruling could have global and regional implications on how tech firms think about and manage content moderation.
Leah Kimathi, a convenor for the Council for Responsible Social Media, agrees. "Big tech should not just look at Kenyans as a market, but should be accountable and alive to the nuances, needs and peculiarities of Kenya, especially when it comes to content moderation."
Facebook has more than 13 million users in Kenya. It and Meta's WhatsApp are the most commonly used social media platforms in the country.
A nationwide poll conducted in 2022 by the Council for Responsible Social Media showed that 68% of Kenyans who have internet access get their news from social media, and that a majority of these feel that social media platforms could do more to remove harmful content.