Britain in talks to waive Covid vaccine patents to improve global access to jabs | Global development
The UK government is in talks about a plan to waive Covid-19 vaccine patents to boost the production of shots in low and middle-income countries, the Guardian can reveal.
The discussions come amid growing calls for Britain and other European countries to follow the US in supporting the proposal put before the World Trade Organization (WTO).
Michael Weinstein, founder of the Aids Healthcare Foundation (AHF), warned that a failure to act swiftly could allow Covid-19 to rip through the world's poorest countries resulting in a "moral and public health failure" akin to the initial woefully inadequate global response to the Aids pandemic in the 1980s and 1990s.
"We waited from 1996 until 2003 to start deploying HIV drugs in the developing world, specifically in Africa," Weinstein said, referring to how pharmaceutical companies in the US, backed by political allies in the Clinton administration, sued "South Africa to prevent them from having generics, which was scandalous".
The foundation launched the Vaccinate Our World campaign in the UK this week to urge Britain and the EU to improve vaccine parity across the globe.
India and South Africa have been pushing for the WTO to waive a longstanding agreement designed to protect intellectual property, known as the Trade-Related Aspects of Intellectual Property Rights(Trips), to improve access to the vaccines.
Earlier this month, 140 MEPs issued a letter to the European Commission urging it to adopt the proposal for a temporary waiver to address vaccine inequality. Meanwhile, 400 academics, politicians and charities wrote to Boris Johnson urging the prime minister to follow the example of the US.
Weinstein said: "The illusion we can protect ourselves by building walls around rich countries and vaccinate only our own populations – and not other countries currently incubating variants that will attack and break through at some point – does not make sense."
According to data on vaccine procurement from Duke University's Global Health Innovation Centre, the UK is the second-largest Covid-19 vaccine hoarder in the world after Canada, having bought enough for four times its own population.
But, said Weinstein: "The real issue is production and the patents, and the lack of coordination between governments."
However, Sir Robin Jacob, chair of intellectual property law at University College London, said there was "no evidence" that suspending vaccine patents would lead to more jabs.
"Vaccines are not the same as medicines, especially conventional medicines which you can make in a relatively small factory in vast amounts," he said. "They are much more complicated. It's a bit like gardening – you need skills and scientific knowledge, and even then it can go wrong. We have seen production problems from people who know how to make it."
He added: "There is not the slightest evidence patents are in any way holding up production of the vaccines. There are other problems – the supply chain is complicated … the US has an export ban I gather – but it's not patents that are in the way."
Lady Sheehan, who sits on the UK's all-party parliamentary group on vaccinations for all, welcomed the fact that Britain was in talks, but stressed: "Time is of the essence. Given what we are seeing in India and the risk to the UK and other countries, with potentially dangerous variants emerging, the government has a moral duty to act to create conditions to ramp up global supply – but also enlightened self-interest should dictate it too."
The UK government said it provided funding for the AstraZeneca vaccine, produced at cost to low and middle-income countries, at scale and through manufacturing partnerships across the world.
A spokesperson said: "We are engaging with the US and other WTO members constructively on the Trips waiver issue, but we need to act now to expand production and distribution worldwide."
They said any negotiations in the WTO on a waiver would require unanimous support and could take time, adding: "So while we will constructively engage in the IP [intellectual property] discussions, we must continue to push ahead with action now including voluntary licensing agreements for vaccines and support for Covax [global vaccine-sharing programme]."
An AstraZeneca spokesperson said: "We agree the extraordinary circumstances of the Covid-19 pandemic call for extraordinary measures. AstraZeneca has risen to the challenge of creating a not-for-profit vaccine that is widely available around the world, and we are proud that our vaccine accounts for 98% of all supplies to Covax.
"We have established 20 supply lines spread across the globe and have shared the IP and knowhow with dozens of partners in order to make this a reality. In fact, our model is similar to what an open IP model could look like."
A partnership between AstraZeneca and the Serum Institute of India (SII), the world's largest vaccine manufacturer, has been hailed as an example of how technology transfer and voluntary licensing can make an impact on access to vaccines in low and middle-income countries.
However, SII's chief executive, Adar Poonawalla, announced on Tuesday that the SII would not be exporting more vaccine doses this year, in a blow to inoculation programmes across Africa and the developing world. Instead, it will prioritise India, which is in the throes of a devastating second wave.
Meanwhile, Covax, the international scheme to ensure equal access to Covid-19 vaccines, is short of 140m doses, largely owing to India's continued crisis.
"While Covax was established to help lower-income nations the quantities of vaccines have been inadequate and have forced developing countries in Africa and other parts of the world to fend for themselves," said Dr Penninah Lutung, Africa bureau chief for AHF.
Covid-19: Italian and Spanish PMs meet in Madrid ahead of EU recovery fund summit | International
Italy's prime minister, Giuseppe Conte, was in Madrid on Wednesday for a meeting with his Spanish counterpart, Pedro Sánchez of the Socialist Party (PSOE), to discuss their countries' joint strategy for an upcoming summit on the European Union's coronavirus recovery fund.
Spain and Italy, the two European countries to be hardest hit by the Covid-19 pandemic, are joining forces against the so-called "frugal" countries – Austria, the Netherlands, Sweden and Denmark – which oppose the idea of a €750 billion fund, of which €500 billion would be non-recoverable grants and the rest made up of loans.
Sánchez and Conte have shared interests, as their countries stand to benefit the most from the fund, according to Italian and Spanish sources who added that Germany and France back this position as well.
"This time Italy, Spain, France and Germany are clearly in sync. We all support the European Commission's proposal," said Spanish sources.
"With the meeting held today with @GiuseppeConteIT we are relaunching relations between Spain and Italy. We agree that the good understanding between our countries must be taken to the political arena. We hope to hold a new Italian-Spanish summit in 2020," tweeted Spain's Sánchez on Wednesday.
Conte and Sánchez will be traveling separately in the coming days to the Netherlands and Germany, and the Spanish leader is also planning a stop in Sweden, whose government wants to replace some of the EU fund grants with loans, according to Spanish sources. The Spanish and Italian PMs are hoping to arrive at the July 17-18 summit in Brussels with a strong negotiated position that will leave little room for resistance from the "Frugal Four."
Wednesday's meeting also served to reinforce bilateral ties that had been weak for years. The last time that the leaders of both countries had come together was in 2014, when then-prime ministers Enrico Letta and Mariano Rajoy met in Rome.
English version by Susana Urra.
'Where should we go?': thousands left homeless as Karachi clears waterways | Global development
Maqsooda Bibi, 62, did not know the house she had lived in all her life would be demolished, forcing her whole family to become homeless. But on Monday, Pakistan's supreme court backed the Sindh government in bulldozing her home and hundreds of others, legalising the eviction of thousands who live along narrow waterways – nullahs – that crisscross Karachi.
The verdict came as Bibi and hundreds of others held a protest outside the court. "We hoped that the court would ask the government not to make us homeless, but it did the opposite. Our children also protested on Sunday and urged the supreme court to stop demolition. It seems no one here cares for the future of the poor."
At least 8,000 houses are being knocked down along the nullahs. The work, which began in February, is in response to the 2020 Karachi floods that saw choked up nullahs overflow and swamp the city. Improvements to Karachi's water and sewage systems are being financed by the World Bank.
As people watched their homes being turned into rubble, civil society organisations approached the court to try to stop the evictions. They said the houses were not to blame for blocking the waterways.
But on Monday the supreme court rejected the petition.
While dozens of people told the Guardian they were renting their homes, the court said any leasing of land along the nullahs was illegal. Activists and writers have termed the decision "unjust". Writer Fatima Bhutto, of the Bhutto political dynasty, tweeted: "The supreme court's decision is a tragedy."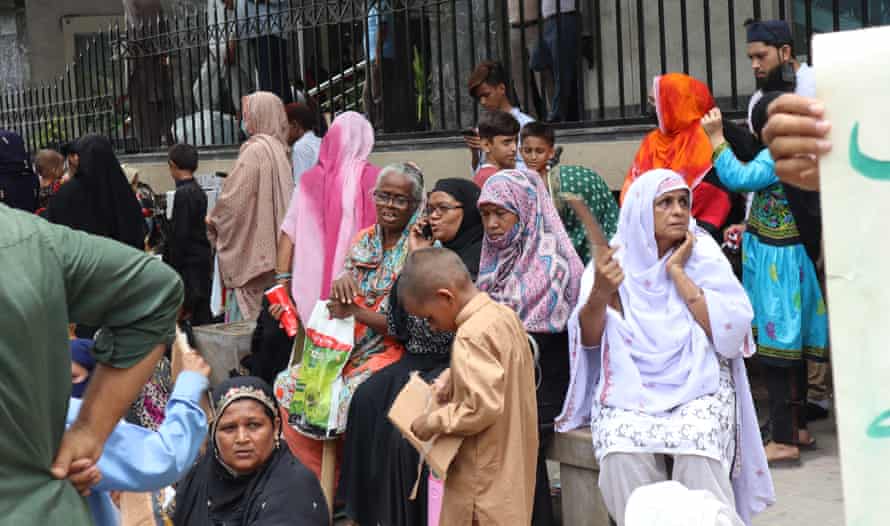 In an editorial, Pakistan's largest English-language daily, Dawn, said: "The demolition of houses situated within nine metres on either side of the Gujjar and Orangi nullahs will continue. When this exercise is completed (before this year's monsoon, according to the plan), at least 100,000 people would perhaps have been rendered homeless. As many as 21,000 children would be out of school and living under the open sky."
Bibi's house was her family's home for five decades. She shared it with four daughters and three sons-in-law. "We all started living on the lawn after they demolished our house but they will snatch the lawn now. At first, they took our shelter, now they will take our land," she says.
Muhammad Shahid is a heart patient whose house was bulldozed a month ago. He expected justice from the court. He was at home when his house was bulldozed at around 11am one morning.
"We are helpless. Where should we go? We can't die or live. I had my angiography done and now I can't work. My children aren't educated enough. My wife had a paralysis attack," says Shahid. He says that even he has not got the 90,000 Pakistani rupees (£410) promised by the government.
Muhammad Aslam did receive some compensation for the loss of his house. But he says it is not enough. He says: "I want to return the amount because it is of no use for four families." He lives with 28 others in one room and a tent after his two-storey house was bulldozed. "We are troubled in all ways, there is no gas or electricity or even sanitation. This isn't living," says Aslam.
Architect and urban planner Arif Hasan says the government had no "proper plan". "They are not doing it merely to stop the flood but to make long roads along the nullahs connecting the Lyari expressway with the northern bypass, displace poor and benefit the rich." He says the World Bank should denounce the Sindh government, as forced evictions are against the bank's policies.
Muhammad Abid Asghar was one of the first to lose his home, on 2 February. With others, he established Gujjar Nala victims committee and, with activists of Karachi Bachao Tehreek (Save Karachi Movement), went to the Sindh high court.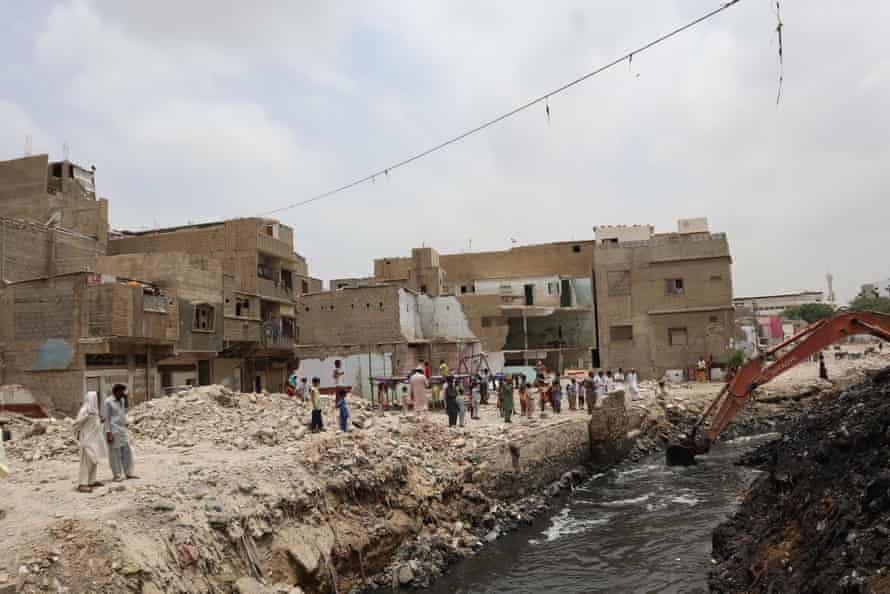 After chalking slogans against the demolitions on walls around the city, the activists say they were called by the World Bank team for a meeting in April.
"We had believed the bank was funding the evictions, but the World Bank denied it. They assured us that no leased houses would be bulldozed."
Sindh minister for information, Nasir Hussain Shah, also says the World Bank is not linked to the evictions. "The government will help residents in rehabilitation," he says, adding that "not more than 5%" of residents were against the demolition works.
The World Bank did not respond to a request for comment.
China calls Nato statement 'slander'
The Chinese mission to the EU denounced a Nato statement that declared Beijing a "security challenge," saying China is actually a force for peace but will defend itself if threatened, AP reports. The Chinese news release said the Nato statement was a "slander on China's peaceful development, a misjudgment of the international situation and (Nato's) own role, and a continuation of the Cold War mentality and organisational political psychology."