Britain in talks to waive Covid vaccine patents to improve global access to jabs | Global development
The UK government is in talks about a plan to waive Covid-19 vaccine patents to boost the production of shots in low and middle-income countries, the Guardian can reveal.
The discussions come amid growing calls for Britain and other European countries to follow the US in supporting the proposal put before the World Trade Organization (WTO).
Michael Weinstein, founder of the Aids Healthcare Foundation (AHF), warned that a failure to act swiftly could allow Covid-19 to rip through the world's poorest countries resulting in a "moral and public health failure" akin to the initial woefully inadequate global response to the Aids pandemic in the 1980s and 1990s.
"We waited from 1996 until 2003 to start deploying HIV drugs in the developing world, specifically in Africa," Weinstein said, referring to how pharmaceutical companies in the US, backed by political allies in the Clinton administration, sued "South Africa to prevent them from having generics, which was scandalous".
The foundation launched the Vaccinate Our World campaign in the UK this week to urge Britain and the EU to improve vaccine parity across the globe.
India and South Africa have been pushing for the WTO to waive a longstanding agreement designed to protect intellectual property, known as the Trade-Related Aspects of Intellectual Property Rights(Trips), to improve access to the vaccines.
Earlier this month, 140 MEPs issued a letter to the European Commission urging it to adopt the proposal for a temporary waiver to address vaccine inequality. Meanwhile, 400 academics, politicians and charities wrote to Boris Johnson urging the prime minister to follow the example of the US.
Weinstein said: "The illusion we can protect ourselves by building walls around rich countries and vaccinate only our own populations – and not other countries currently incubating variants that will attack and break through at some point – does not make sense."
According to data on vaccine procurement from Duke University's Global Health Innovation Centre, the UK is the second-largest Covid-19 vaccine hoarder in the world after Canada, having bought enough for four times its own population.
But, said Weinstein: "The real issue is production and the patents, and the lack of coordination between governments."
However, Sir Robin Jacob, chair of intellectual property law at University College London, said there was "no evidence" that suspending vaccine patents would lead to more jabs.
"Vaccines are not the same as medicines, especially conventional medicines which you can make in a relatively small factory in vast amounts," he said. "They are much more complicated. It's a bit like gardening – you need skills and scientific knowledge, and even then it can go wrong. We have seen production problems from people who know how to make it."
He added: "There is not the slightest evidence patents are in any way holding up production of the vaccines. There are other problems – the supply chain is complicated … the US has an export ban I gather – but it's not patents that are in the way."
Lady Sheehan, who sits on the UK's all-party parliamentary group on vaccinations for all, welcomed the fact that Britain was in talks, but stressed: "Time is of the essence. Given what we are seeing in India and the risk to the UK and other countries, with potentially dangerous variants emerging, the government has a moral duty to act to create conditions to ramp up global supply – but also enlightened self-interest should dictate it too."
The UK government said it provided funding for the AstraZeneca vaccine, produced at cost to low and middle-income countries, at scale and through manufacturing partnerships across the world.
A spokesperson said: "We are engaging with the US and other WTO members constructively on the Trips waiver issue, but we need to act now to expand production and distribution worldwide."
They said any negotiations in the WTO on a waiver would require unanimous support and could take time, adding: "So while we will constructively engage in the IP [intellectual property] discussions, we must continue to push ahead with action now including voluntary licensing agreements for vaccines and support for Covax [global vaccine-sharing programme]."
An AstraZeneca spokesperson said: "We agree the extraordinary circumstances of the Covid-19 pandemic call for extraordinary measures. AstraZeneca has risen to the challenge of creating a not-for-profit vaccine that is widely available around the world, and we are proud that our vaccine accounts for 98% of all supplies to Covax.
"We have established 20 supply lines spread across the globe and have shared the IP and knowhow with dozens of partners in order to make this a reality. In fact, our model is similar to what an open IP model could look like."
A partnership between AstraZeneca and the Serum Institute of India (SII), the world's largest vaccine manufacturer, has been hailed as an example of how technology transfer and voluntary licensing can make an impact on access to vaccines in low and middle-income countries.
However, SII's chief executive, Adar Poonawalla, announced on Tuesday that the SII would not be exporting more vaccine doses this year, in a blow to inoculation programmes across Africa and the developing world. Instead, it will prioritise India, which is in the throes of a devastating second wave.
Meanwhile, Covax, the international scheme to ensure equal access to Covid-19 vaccines, is short of 140m doses, largely owing to India's continued crisis.
"While Covax was established to help lower-income nations the quantities of vaccines have been inadequate and have forced developing countries in Africa and other parts of the world to fend for themselves," said Dr Penninah Lutung, Africa bureau chief for AHF.
Climate change: Floods, fires, smog: AI delivers images of how climate change could affect your city | USA
The full brunt of the devastating effects of climate change is still a long way off. If we don't experience the impact directly, it's difficult to fully internalize the extreme seriousness of the climate crisis.
That's why a team at the Mila-Quebec Artificial Intelligence Institute, led by Professor Yoshua Bengio, wants to bring it home – right to your doorstep in fact. His team has developed a tool that makes it possible to visualize the effects of floods, wildfires and smog anywhere in the world. Their simulation does this by making use of a generative adversarial network (GAN), a type of machine-learning algorithm. GANs can also produce things such as deepfake images, which are digitally composed of millions of images to create realistic photos of something (or someone) new.
For two years, 30 scientists have worked on the project, which is named after thispersondoesnotexist.com, a website portfolio of deepfake faces. Bengio's version is called "This Climate Does Not Exist." All a user has to do is type in an address or select a marker on Google Street View, and then indicate what kind of catastrophe they want to see: flood, wildfire or smog. The algorithm works its magic and returns the image with the requested effect. These images are not intended to be an accurate portrayal of what would happen at each specific location if no action on climate change is taken, but rather are a recreation of the worst possible effects in the scenario of the user's choice.
The realism is particularly striking in the flooding option, which was the most difficult for Bengio's team to produce. The algorithm takes the location proposed by the user, automatically places a layer of water on it and then adapts it to the environment of the image itself. The result is hyperrealistic.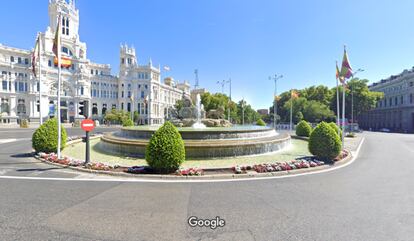 "One of the most important challenges has been getting the algorithm to simulate flooding in a wide variety of images," explains Alex Hernandez-Garcia, one of the project's lead researchers. "One module of the algorithm is in charge of detecting which parts of the image should be covered with water and another module is in charge of generating the water texture by incorporating the context of the image, for example, the reflection of buildings. Finally, these results are combined to generate the final image."
To detect which parts to cover with water and which to leave unscathed, Hernandez-Garcia and his colleagues combined several artificial intelligence (AI) and machine-learning techniques. "We generated a virtual city that allowed us to make a series of images with and without water. We also adjusted an algorithm that was able to make good predictions in that virtual world, detecting the different parts of a scene: the ground, cars, buildings, trees, people and so on," he explained. "However, the algorithm must be able to make good predictions based on real images [those from Google Street View]." For the latter, they used generative adversarial networks.
The process is completed in a few seconds, and before displaying the image to the user some information is provided about the causes and consequences of the selected weather phenomenon, and its relationship to climate change. For example, if a flood is chosen, it indicates that flash floods kill about 5,000 people a year, that sea levels are expected to rise by two meters by the end of the century and that this major disruption to the planet will forever alter the lives of at least one billion people by the end of 2050. "If we do nothing, soon we will face major climate catastrophes," says Professor Bengio, the institute's scientific director. "This website makes the risks of climate change much more real and personal to people," he argues.
Generative adversarial networks
The quality of AI took a giant leap forward about a decade ago with the emergence and consolidation of machine learning and deep learning. These techniques are based on training a machine so that it is capable of performing complex tasks after reaching certain conclusions on its own. For example, if you want the algorithm to distinguish between blueberry muffins and chihuahuas, the programmer will feed it a series of examples of each category, followed by thousands of images that are not pre-sorted. The machine will establish which is which, and when it gets it wrong and is made aware of the error, will refine its criteria.
Bengio won the 2018 Turing Award, considered the Nobel Prize of computer science, along with Geoffrey Hinton and Yann LeCun, for their contribution to the development of neural networks. This is a further step in machine learning that attempts to mimic the functioning of the human brain: applying several simultaneous layers of processing to increase performance. Neural networks are behind the most complex classification systems, such as voice assistants or advanced prediction models.
Generative adversarial networks (GANs) go even further. They were invented at the Mila-Quebec Artificial Intelligence Institute in 2014 and are capable of generating new content that looks faultlessly real to the human eye. GANs are behind the increasingly sophisticated deepfake videos of Tom Cruise or Donald Trump now circulating online, in which politicians or celebrities say or act in whichever way their creator likes. They work thanks to competition between two neural networks: one tries to produce images that are as realistic as possible and the other tries to detect whether they are real or a fabrication. This tension is replicated thousands or millions of times and during this process, the generating network learns to create more and more successful images. When the first network succeeds in fooling the second, we have a winning image. From there, a perfectly rendered image of New York City's Times Square inundated by flooding is just a click away.
The Quebec lab is now using a new type of GAN they have developed to generate the climate change images seen on their website. "In general, the limited availability of images and the need to adapt the algorithm to a multitude of situations have been the main technical challenges we have faced," says Hernandez-Garcia.
Assad regime 'siphons millions in aid' by manipulating Syria's currency | Global development
The Syrian government is siphoning off millions of dollars of foreign aid by forcing UN agencies to use a lower exchange rate, according to new research.
The Central Bank of Syria, which is sanctioned by the UK, US and EU, in effect made $60m (£44m) in 2020 by pocketing $0.51 of every aid dollar sent to Syria, making UN contracts one of the biggest money-making avenues for President Bashar al-Assad and his government, researchers from the Center for Strategic and International Studies (CSIS), the Operations & Policy Center thinktank and the Center for Operational Analysis and Research found.
Hit by new US sanctions and the collapse of the banking system in neighbouring Lebanon, cash-strapped Damascus is relying increasingly on unorthodox methods for raising funds – money either pocketed by officials in Damascus for their own personal wealth, or put towards the 10-year-old war effort.
Researchers analysed hundreds of UN contracts to procure goods and services for people living in government-held areas of Syria, where more than 90% of the population are living in poverty since the Syrian pound, or lira, crashed last year.
While the central bank's official exchange rate has improved this year to SYP2,500 to the US dollar, the black market rate is SYP3,500. Legitimate traders and consumers prefer to use the black market rate, as they receive more Syrian pounds for foreign currency.
Since the UN is forced by the Syrian government to use the official rate, half of foreign aid money exchanged into Syrian pounds in 2020, when the rates were hugely divergent, was lost after being exchanged at the lower, official rate.
"This shows an incredibly systematic way of diverting aid before it even has a chance to be implemented or used on the ground," said Natasha Hall, of the CSIS, a Washington-based thinktank that helped compile the research.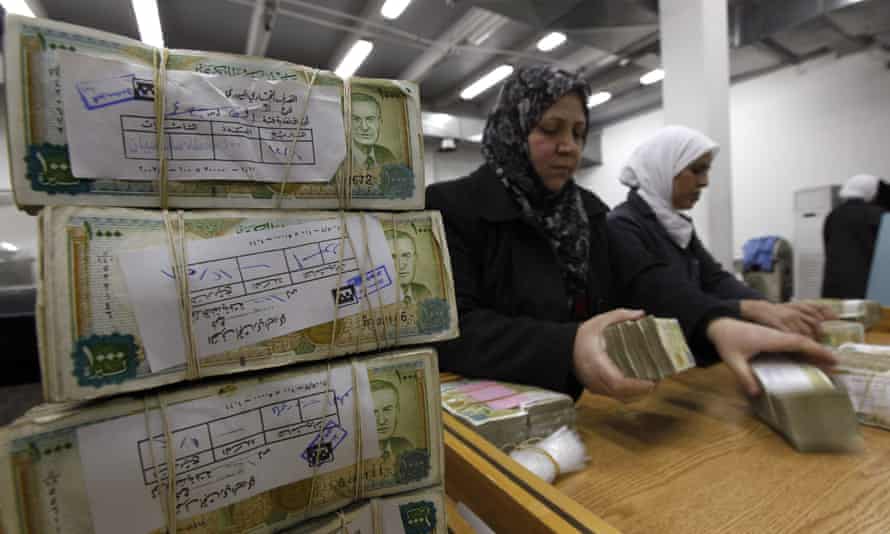 "If the goal of sanctions overall is to deprive the regime of the resources to commit acts of violence against civilians and the goal of humanitarian aid is to reach people in need then we have this instance … where aid is at complete contradiction to those two stated goals."
After 10 years of civil war in Syria, international donor fatigue, already seen in decreasing aid pledges, has turned to more overt political re-engagement with Assad's regime.
Without the US playing a strong role in finding a political solution in Syria, which Washington still publicly advocates, Arab nations – including the US-allied Jordan, the United Arab Emirates, Saudi Arabia and Egypt – have recently restarted diplomatic talks, reopened borders for trade and signalled renewing economic cooperation.
The US allows Damascus to play a major role in funnelling Egyptian gas to Lebanon to power the country's fuel-depleted power plants. Interpol allowed Syria to rejoin its network even as the fate of dissidents captured throughout the war remains unknown.
Examining 779 publicly available procurements for 2019 and 2020, listed on the UN Global Marketplace database, researchers found that up to $100m was lost in the exchange rate.
If salaries, cash-aid programmes and other funding streams not made public were included, the bank could be making hundreds of millions of dollars, according to researchers.
The funding has been channelled through various UN agencies – the Office for the Coordination of Humanitarian Affairs (OCHA); the World Food Programme; the UN Development Programme; the UNHCR; the Food and Agriculture Organisation; and Unicef.
The UN's financial tracking system told the researchers it did not monitor the amount of money exchanged into Syrian pounds as "tracking such information was beyond the scope of their mission".
More than 350,000 people have died in Syria over the past decade, and governments have donated on average $2.5bn a year to the UN's Syria programmes since 2014.
In 2016, the UN was accused of aiding the regime by diverting billions of dollars in aid to government-held regions while leaving besieged areas without food and medicine.
Human Rights Watch (HRW) has warned that UN agencies and governments risked complicity in human rights violations in Syria if they did not ensure transparency and effective oversight.
Last year, the US announced an additional $700m in humanitarian assistance for Syria. The UK government has given £1.59bn in aid to Syria between February 2012 and June 2021.
A Foreign, Commonwealth and Development Office spokesperson said: "The UK does not provide any aid through the Assad regime … Robust processes are in place to ensure that our aid reaches those who need it most."
Hall said there was a "reticence" about investigating how much aid had been diverted. She said donors were well aware of the problem. "I think it is about [them] choosing certain battles to fight. It's just not clear to me that any battles are being fought when it comes to aid in Syrian government-held areas today," she said.
"There's really no way for us, as independent consultants, to know the full extent of how aid is spent inside the country … We just wanted to flag that, even through this limited portal to understanding how much is spent, it's already tens of millions of dollars which is hoarded."
She believes the UN should negotiate a preferential exchange rate with the Syrian government – – to at least reduce the amount siphoned off.
Sara Kayyali, of HRW, said "there was no due diligence in terms of human rights" within UN procurement to avoid bankrolling Syria.
"This should be a wake-up call to the UN … they need to revise the way they provide aid and revise how they consider their obligations to respect human rights in light of this, because it's difficult to justify this idea that hundreds of millions of dollars are going to an abusive state apparatus," she said.
Danielle Moylan, a spokesperson for the UN agencies mentioned, said: "The UN welcomes all independent scrutiny of humanitarian operations in Syria. Our foremost priority has, and always will be, assisting the people in need in Syria, guided by humanitarian principles, accountability to the affected populations, transparency, efficiency and effectiveness.
"The majority of UN's procurement for our humanitarian response in Syria is made in international and regional markets and therefore not affected by the Syrian exchange rate. Otherwise, as is the case in any country, the UN in Syria is required to use the official exchange rate," Moylan said.
"In the past, the UN and humanitarian partners have negotiated a 'preferential' exchange rate for humanitarian operations [and] continues to engage the Central Bank of Syria on the issue of 'preferential' exchange rates."
Alexei Navalny wins 2021 Sakharov Prize
The European Parliament announced that Kremlin critic Alexei Navalny has won the Sakharov Prize for defending human rights. The parliament's president David Sassoli wrote on Twitter: "Alexei Navalny is the winner of this year's #SakharovPrize. He has fought tirelessly against the corruption of Vladimir Putin's regime. This cost him his liberty and nearly his life. Today's prize recognises his immense bravery and we reiterate our call for his immediate release."