Ayuso: Why Madrid's leftist strongholds voted for the conservative Popular Party: 'Freedom' and 'fear of Pablo Iglesias' | Spain
Incumbent Madrid premier Isabel Díaz Ayuso of the conservative Popular Party (PP) swept to a resounding victory in last week's regional election. Not only did she win in the PP's strongholds, but she also won in the so-called "red belt," which has historically always supported leftist groups, in particular the Socialist Party (PSOE).
"Freedom," or the fear of losing it, was key to how Ayuso turned the tables in the red belt, which is made up of the municipalities of Fuenlabrada, Leganés, Parla, Getafe and Alcorcón. Fear of Unidas Podemos founder Pablo Iglesias, who stepped down as a deputy prime minister to stand as a candidate, also played an important part. These factors combined created the perfect storm to lead Ayuso to a sweeping victory – albeit falling just shy of an absolute majority. Far-right Vox has already said it will lend her its votes to see her become premier once more.
Óscar Zafra from Fuenlabrada considers himself "on the left, but not the far left." However, when the 18-year-old voted for the first time last Tuesday, he cast his ballot for Ayuso. He tells EL PAÍS that his decision was based on the conservative politician's promise of "freedom" and a lax approach to coronavirus restrictions. "Being able to go out, go to bars, get together with friends… I don't know, I don't understand a lot because I'm still young, but Ayuso convinced me the most," he says, adding that he made up his mind after watching the televised debate on April 21. His friend, Daniel Cáceres, who is too young to vote, agrees with his decision.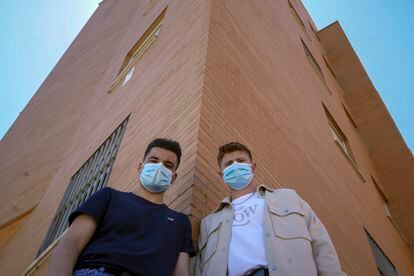 A total of 74.99% of residents in Fuenlabrada voted in the Madrid regional election and 35.95% made the same decision as Zafra. The PP's success turned the political landscape of the area upside down – the party went from winning 10,810 votes in the last regional election in 2019 to 37,691 last week. The PP has gone from being the fourth-most voted group in Fuenlabrada to the most-voted, a title the PSOE had only lost previously in 2011.
Political scientist Alejandro Solís, who lives in Fuenlabrada, says "pandemic fatigue" is the main reason for the shift. Ayuso has been a staunch opponent to coronavirus restrictions, even though Madrid has one of the highest transmission rates in Spain. "People need hope. And this has been an important factor in the PP's campaign," says Solís. "It has played with freedom, with the idea of going back to how it was before. It has not been a purely promotional campaign, but rather one aimed at the idea of recovering our lives. Competing against that is difficult."
Speaking to EL PAÍS at a café near his home, Solís explains that the idea of the red belt is a "myth" because left-wing and right-wing parties have been on even footing for some time now. According to him, one of the reasons for this is due to urban development in the area which "has grown very quickly in a short amount of time." This has divided the municipality into three parts: the center, the traditional PSOE stronghold; the surrounding neighborhoods, where the leftist party Más Madrid made gains; and the new residential developments, which boast gardens and swimming pools. In the latter, the Popular Party has always held more sway – now it dominates completely.
Jesús García, a 66-year-old retired builder, is a longtime resident of Fuenlabrada and has always voted for the PSOE. "I am a man of fixed ideas and it does me good," he explains. After making Social Security payments for 44 years, he now lives off a pension of €1,350 a month. It's enough to go down to the bar on Castilla la Vieja street and spend the morning chatting with other locals as well as the bar's owner, 82-year-old Marcelino Sánchez Mejías.
The bar is on the ground floor of a brick apartment building, where air-conditioning units have been added on and balconies sealed off. Just 10 meters away a new housing development is being built, complete with gardens and pools. "Who I am never going to vote for is [Santiago] Abascal or coletas," says García, in reference to the leader of the far-right Vox and Pablo Iglesias, who is often called coletas – meaning ponytail – in a derogatory reference to his long hair. Following the PP's devastating win at the election, Iglesias announced he was walking away from all of his roles in politics.
García is drinking beer with his brother-in-law Juan Flores, a 68-year-old retired soldier, who prefers red wine. Both complain of the politicians' broken promises, the fighting between parties and the fact that the needs of the people are going unheard. The two share a particular aversion to Iglesias, whom they blame for the Socialist Party's poor results. The central government is formed by a coalition of the PSOE and junior partner Unidas Podemos, a fact they believe hurt PSOE candidate Ángel Gabilondo at the Madrid polls. "Gabilondo is intelligent and cultured, but very slow to move," says Flores, who preferred not to say who he voted for. "The girl has given him a push and there you have it," he adds, referring to the fact that Más Madrid candidate Mónica García won more votes than Gabilondo at the regional election. Neither of them, however, anticipated that the PP would win by such a large margin. On the streets where they live, the conservative party won twice as many votes as the PSOE.
Useless vote
Meanwhile, further down the street, Roberto López, a 56-year-old who was given early retirement from communications giant Vodafone, is parking his car. He says he voted for Ayuso due to the "lies" and "broken promises" of the political class, as well as his "fear" of Iglesias. His first option was the center-right Ciudadanos (Citizens), which had been governing the Madrid region in a coalition with the PP until the early election. But, in the end, he thought that would be a "useless vote." As it turned out, Ciudadanos failed to secure 5% of the vote, meaning it has been left without representation in the Madrid Assembly. He also decided against voting for Gabilondo on the grounds that the PSOE candidate would make a governing deal with Iglesias. He is pleased with the results of the election.
In addition to these two fears – the fear of losing freedom and the fear of a Madrid government with Iglesias – the PP was also buoyed by the growing popularity of 28-year-old Noelia Núñez, the PP's leader in Fuenlabrada, says Solís. With more than 13,000 followers on Twitter, Núñez defines herself as a person who "defends liberalism at all costs, who defends that the state should not get involved at all in the life of the people." The fresh-faced politician used an image of former British prime minister Margaret Thatcher – who oversaw a wave of privatizations in the United Kingdom – to share her message on social media. "Social media allows you to reach many people," she says, while adding that working with people on the ground is also important.
"Ayuso's success has been seeing that the people want to work. The left did not understand that," says Núñez, who will enter Madrid Assembly thanks to the PP's strong results. "But I am not leaving Fuenlabrada, that's my priority. I want to be mayor in 2023," she says.
The sense of victory in the PP contrasts to the surprise of many of the locals in Fuenlabrada, who are still digesting what happened. Just 10 kilometers away in Parla, the same arguments in favor of Ayuso are repeated. "I don't understand anything," says David Jiménez, a 45-year-old employee of the supermarket chain Mercadona. "We have problems with schools that are not built which they have been promising us for years, we have problems with health centers, with everything," he says angrily.
The city of Parla has a population of 130,000 and has grown in recent years due to a property boom that has made it harder to distinguish the left and right blocs. "On the street, people continue to be very much on the left," says Vicente Guisado, a political scientist and Parla resident. But he adds that polarization is "mobilizing both blocs." According to Guisado, the PSOE lost ground in Parla because its strategy to attract votes from Ciudadanos and Más Madrid failed. He estimates that between 5% and 10% of PSOE voters cast their ballot for Ayuso last Tuesday.
That wasn't the case for Almudena Rodríguez, a 40-year-old physiotherapist and her husband, Daniel Guzmán, a 34-year-old Civil Guard officer, who say they have always voted for the PP. But they admit they know people who went from voting for Podemos to the PP or even Vox. "It's an issue of castes and the revolving doors," says Rodríguez. "They criticize and then they do the same. People are fed up." According to Rodríguez, thanks to Ayuso's lax approach to coronavirus restrictions she was able to keep her business open.
The physiotherapist is not the only one who supports Ayuso's decision not to introduce tougher coronavirus restrictions. "She has defended us," says 49-year-old Rafael Navarro, who is happy that he can still open his bar in Parla, Bar de Rafa. According to Navarro, just a few days ago members of the PSOE and Vox were having a meal together at the bar. The establishment is located in an area of Parla called La Laguna, where the PP went from being the fourth-strongest group to the first at last Tuesday's election. Navarro, who previously voted for Ciudadanos, supports the PP's management of the health crisis in Madrid. Not just for the sake of his business, but also "the fishmongers, fruit shops, butchers and Coca-Cola delivery person." He says he knows the leaders of all political parties in Palara and gets along well with all of them. His only criticism is for Iglesias "who is guaranteed a salary for life, which I, as a self-employed worker, will never have."
English version by Melissa Kitson.
Remains found in Dublin adds intrigue to search for Robert Emmet's grave
Skeletal remains have been found at one of the locations identified as a possible last resting place of Robert Emmet who was executed on this day in 1803.
The remains were found during an excavation at the back of St Paul's Church in Stoneybatter in Dublin.
The disappearance of the body of Robert Emmet is one of the great mysteries of Irish history.
Emmet was tried and then hanged for instigating the ill-fated 1803 rebellion. He became a symbol of Irish martyrdom for his speech from the dock in which he concluded: "Let them and me rest in obscurity and peace, and my name remain uninscribed, until other times and other men can do justice to my character. When my country takes her place among the nations of the earth, then, and not till then, let my epitaph be written."
After he was publicly hanged outside St Catherine's Church in Thomas Street on September 20th, 1803, his head was displayed to the crowd by the hangman Thomas Galvin. The remains of Emmet's body was taken to Bully's Acre in the grounds of what is now the Royal Hospital Kilmainham and buried there.
When some of his friends went to reintern his remains from Bully's Acre to St Michan's Church in Church Street, a church associated with the United Irishmen, they found there was no body there, and so began a search which endures to this day.
His great-nephew Dr Thomas Addis Emmet requested an archaeological dig at the family vault in St Peter's Church in Aungier Street to mark the centenary of Emmet's death in 1903, but that proved to be unsuccessful.
Speculation
St Paul's Church is another contender in the saga of Emmet's remains. It was the parish church of Kilmainham Gaol's doctor and effective governor Dr Edward Trevor.
In his book In the Footsteps of Robert Emmet, JJ Reynolds speculated that Trevor removed Emmet's body and put it in an unmarked grave in the grounds of St Paul's Church. This was to ensure that his grave would not become a shrine for Irish nationalism.
The church, which was the venue for the consecration of the philosopher George Berkeley as Bishop of Cloyne in 1734, has been converted into the Spade Enterprise Centre, a not-for-profit social enterprise unit.
The land where the skeletal remains were found is being turned into a shared kitchen for small business enterprises in the area.
Archaeologist Franc Miles said burials in the grounds were from 1702 to the 1860s. A extant set of burial records remain, but Emmet, if he really is buried there, would have no record.
Previous exhumations were carried out when the graveyard was closed in 1860s to make way for a school on the site.
"With all the evacuations, we were left with bits and pieces of body. There weren't many full skeletons," he said.
Mr Miles said it all the gravemarkers and stones were removed in the 1860s "so all you are left with really are bones."
Mr Miles said it would be difficult if not impossible to identify Emmet's remains even if they are buried in the grounds of St Paul's Church.
His own "educated guess" is that Emmet's body is still buried somewhere in Bully's Acre.
As many of his supporters have said over the last two centuries: "Do not look for him. His grave is Ireland."
How the cost of renting an apartment in Copenhagen compares to other cities in Denmark
Officials pushed for State to buy direct provision centres from private firms
The Government should buy a number of privately-owned direct provision centres as a "priority" as it would be more "cost effective" for the State to run the facilities for asylum seekers, international protection officials have said.
The savings arising from owning the accommodation centres rather than paying private contractors to do so "could be considerable", departmental briefing documents provided to Minister for Children and Integration Roderic O'Gorman last year state.
The vast majority of direct provision centres are currently owned and run by private companies, with accommodation providers having received some €1.6 billion since 1999, including €183 million last year.
The latest figures show some 7,150 people are in the system of seven State-owned sites and 39 private centres. A further 24 commercially-owned premises are being used to provide emergency accommodation for asylum seekers.
The briefing document, released to The Irish Times under the Freedom of Information Act, says that housing people seeking asylum in State-owned centres would provide the "best protection from the vulnerability of present market reliance".
"They are also much more cost efficient to run, and the State owns the asset," it notes.
The document suggested that State centres should aim to accommodate 5,000 people, and "allowing the private sector to supply the rest is regarded as an achievable and reasonable target".
The purchase of existing centres from private providers "to immediately boost the State's footprint in this area should be considered as a priority," the internal document said.
"Some service providers may be open to this and the market appears to be favourable at present," it said.
The internal briefing suggested the department could then seek private companies or NGOs to run the centres, which would be a "competitive cost option".
'Badly needed'
Ongoing maintenance for centres owned by the State was also "badly needed," as current pressures on the Office of Public Works (OPW) meant it was not possible "for immediate repairs to be done if required".
"In exploring the model of more State centres, we need to agree and acquire a capital budget," the briefing stated.
"State land does not require planning permission for new centres as the Minister has a power under the Acts, whereby the OPW can grant the planning permission and this is usually a three-month process. It is not subject to appeal."
The document says that State centres "can also have a bigger footprint as it will be a permanent fixture in the locality". In recent years a number of plans for private providers to open direct provision centres in regional towns have been met with protests from locals and anti-immigration activists.
Mr O'Gorman's department has sought to reform the direct provision system and is seeking to replace the network of centres with a new system of accommodation and supports by the end of 2024.
New centres
A department spokesman confirmed the State has not bought any new centres since the briefing note was written. The spokesman said under the planned overhaul of direct provision, asylum-seekers who arrived into the country would initially be housed in a number of reception and integration centres.
Asylum-seekers will spend a maximum of four months in the reception centres before moving into housing secured through Approved Housing Bodies.
"These centres will be State-owned and purpose built to provide suitable accommodation for approximately 2,000 people at any one time, to cater for the flow-through of the 3,500 applicants over a 12-month period," he said.