American uprising: three US cities cracked down on protesters – their histories tell us why | US news
One year ago, in the week after George Floyd was murdered by Minneapolis police, an uprising ripped across the country at a dizzying pace. As millions flooded the streets police used teargas against demonstrators in more than 100 cities, producing a sense that the nation teetered on the edge of chaos and revolution.
Some of the cities were not large metropolitan areas, but medium-sized towns that exemplified political and social forces that have repressed Black communities for nearly 100 years. The Guardian examined three cities – Asheville, North Carolina; Wichita, Kansas; and Spokane, Washington – and found similar trends were at play.
This uniquely American situation, combined with the economic dislocations of the pandemic, contributed to a powder keg environment. In order to tell this story, the Guardian obtained internal assessments by police after protests in their cities, and spoke to demonstrators in each city. But the story is larger than just one year.
For generations, all three cities divested from Black communities, concentrating them in areas that experience higher levels of crime, police violence and harassment. Police have evaded calls for accountability for decades, residents say, while reforms and oversight have amounted to tinkering at the margins.
When the protests came, their scale in each city was unprecedented, and police were stunned at protesters' nimbleness and willingness for confrontation. They deployed voluminous amounts of chemical munitions and other riot control weapons against protesters, who maintain that police escalated tensions.
The Guardian contacted each police department for comment. Asheville police defended its record by citing its data-driven approach, which stands out among US police. Wichita police emphasized a change in its leadership since 2016, and highlighted a number of community initiatives meant to reduce Black residents' negative contact with the criminal legal system. Spokane police did not respond to inquiries.
A year later, some who advocated for police reform or abolition worry that a familiar pattern of stagnation is repeating. Far from jeopardizing funding, police budgets in these three cities have either increased or not meaningfully changed, and none of the broader issues of equity in Black communities have changed in substantial ways.
Before the protests
When Rob Thomas's car tire went flat about a decade ago he was heartened that an Asheville police officer stopped to help. But then the officer insisted on searching his car, and claimed to find small bits of marijuana. He acted as if he was doing Thomas a favor by letting him go.
"This is just one of the experiences that I personally have faced," Thomas, 34, says. "It's like they can literally bend the law to their will to harass you and do it justifiably."
Thomas now works as a community liaison with the Racial Justice Coalition, a local nonprofit, and understands the systemic impacts of racism on his life. But as an intelligent kid in a "drug-infested environment", he felt alienated and lost, and he went to prison twice before he was 30. Growing up Black in Asheville, a city in mountainous western North Carolina, there were unspoken rules, like never run from a police officer.
"It was well known throughout my community that if you ran from the police, they were going to use force on you whether you gave up or not, for the simple fact that you have already resisted arrest."
A data portal launched by the city in December shows that Black residents were the targets of a third of all force by Asheville police from last November through March, though they make up about 11% of Asheville's total population. A spokesperson said the department "has invested a considerable amount of education and training to make sure all of our officers protect the public without any kind of bias toward anyone."
People living in Asheville's public housing developments, home to most of the city's Black residents, report frequent interaction with police, Thomas says. At one development in 2016, an Asheville officer shot and killed 35-year-old Jai (Jerry) Lateef Solveig Williams, leaving his bullet-riddled body in the road for hours as neighbors took pictures.
Asked for comment, Asheville police said Williams was armed.
In response to questions from the Guardian, the Asheville police spokesperson said patrols were not concentrated in public housing developments, citing the department's own small sampling of GPS data. The department has had a unit of officers dedicated to public housing developments since 2012.
In Wichita, Kansas, Black people also experience more negative interactions with police compared with other racial groups. After Black residents living in the city's Central Northeast complained of frequent police vehicle stops for improper turns, a local newspaper in 2006 confirmed that police were targeting the region for pretextual traffic stops. Recent reports indicate a pattern of police more frequently stopping Black residents compared with white is still occurring, though the department disputes racial profiling.
"They were mostly stopping young men, but I was an old Black woman and I got stopped twice," recalls Elaine Guillory, distribution manager at the Community Voice, a local newspaper for Wichita's African-American community. "Both times I got stopped late at night. It was oppressive. It was very oppressive."
In an analysis of public data by the Wichita Eagle from 2018, 43% of lethal force cases dating to 2009 involved Black residents. Although WPD's rate of killings are in the middle of the 100 largest US cities, when police do use excessive force, there is a critical lack of public accountability that follows, according to James Thompson, a civil rights lawyer who reviewed about 25 instances of Wichita police brutality from 2011 to 2015.
"You can't even find out the names of officers that have been involved in a shooting," Thompson said. "I started seeing patterns in the police reports, like they'd say someone made furtive movement towards the waistband … it's the same language over and over, like they're trained to say these things."
In the last five years, Wichita police, under a new chief, have put together several initiatives for developing community relationships to defuse tensions in response to police violence. A spokesperson for the department also highlighted the department's addition of social workers to its patrols for mental health outreach, housing stabilization and violence interrupters as the rate of killings in the city has increased.
The concentration of homicides in Black neighborhoods, like policing in general, corresponds with racist housing patterns and state-backed displacement of Black people. Wichita's Central Northeast neighborhood tracks with a map of redlining from the 1940s and has remained neglected for decades. Asheville was also redlined, and later waves of urban renewal broke apart Black communities and cut their population in the city by nearly half from 1950 to 2010.
Though Spokane, a city in Washington near the Idaho border, has a smaller Black population than either Wichita or Asheville, Black people as well as Native Americans are more likely to be suspected of crimes, stopped, arrested, searched and have force used against them.
Spokane police officers' killings of residents ranks as the third highest among the top 100 largest cities in the country, according to Mapping Police Violence. Activist researchers found Black people were killed by police at 3.3 times the rate of white residents.
Like many US cities, Spokane neighborhoods were redlined, and continue to have all-white housing covenants on the books. In 2018, the public was roiled by video of an officer intentionally crushing a Black man's testicles. The officer was fired, but the local district attorney chose not to prosecute him.
"The disparate treatment is especially stark here, where the Black community is 2 to 3% of the population but at least 15 or sometimes 18% of the local jail population," said Kurtis Robinson, the vice-president of Spokane's NAACP chapter.
During the protests
In all three cities the Guardian analyzed, the protests immediately following Floyd's death did not start in neighborhoods with significant Black populations, but instead in cities' downtown regions and other central areas – mirroring a nationwide trend. At some point, people looted stores and defaced property while police made arrests and fired crowd control rounds and teargas.
Spokane police described 31 May as "nine hours of battle" in which there were 300-strong "riots" downtown at one point. People threw rocks and bricks at riot officers, said police, who used pepper spray, teargas and other chemical munitions.
But some who were there disagreed with Spokane police's battlefield description, including Emily Peters, a makeup artist and local activist. Video from the day also shows officers rushing and firing at small groups of protesters.
"In my personal experience and videos I've watched, there's nothing, there's no explanation for their use of teargas and use of force on that day, it just came out of the blue," Peters said.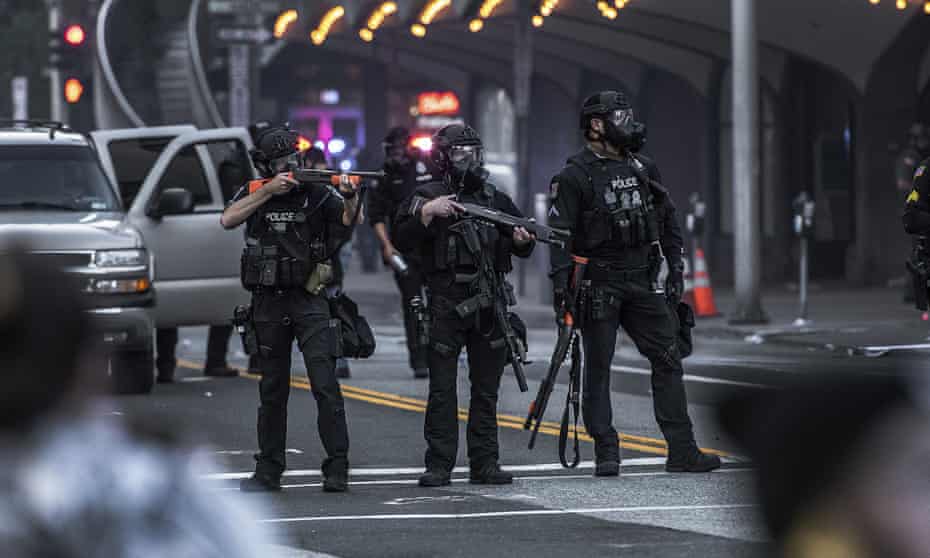 "They showed up in an escalated position with full armor, snipers on the roof," added Alexis Gallaway-Tonasket, another local activist present at other demonstrations in Spokane.
More than 2,000 miles away, in Asheville, police reported a shift in the crowd of protesters that night, whose "signs and chants calling for social justice and a stop to police brutality were replaced by vulgarity and direct threats to APD officers", according to police. About 300 protesters took over highway I-240E and walked against traffic. At least two businesses downtown were defaced, as was a Confederate monument.
With reinforcements from neighboring counties and cities, Asheville police used teargas and pepper balls with irritating chemicals.
"The APD has never encountered a protest where emotions were so high and the anger towards police was so fervent," Asheville police later said.
Days later, a video clip of Asheville police in riot gear destroying $2,156.88 worth of protesters' medical supplies and water went viral. The department later said this was a mistake, but assessed its officers' overall response to protests favorably. It noted the department only received one complaint about an injury caused by police.
But Mary Williams, a nursing school student at Asheville-Buncombe Technical Community College who attended the protests to provide medical support, said she treated "at least 100 people" for injuries, including teargas irritation, blunt force trauma, and lesions from fired rounds.
Thomas, the Asheville native, said he and two others hosted a meeting with about 80 Black residents to decide whether to join protests. They eventually organized an event on 6 June, as a strategy for pushing several demands, including a local reparations initiative. By then, according to police, the protests had become less confrontational.
"Some of the original protest participants wanted it to be more anarchist and, you know, and I respect all protesters and every method of protest, but I specifically engaged in peaceful protests that did not result in property damage or physical damage to community members," Thomas recalled.
The tension in tactics among protesters was also visible in Wichita, which had not seen wide-scale rioting in response to police violence since 1980. In an after action report, police said they had gained intelligence through social media and crowd infiltration, but weren't trained to handle the unrest and had "equipment issues".
After several nights of protests where no property damage occurred, one street corner a few miles north of downtown became a gathering spot for youth to protest and create a block party atmosphere. People eventually looted a store and threw things at police, and one person was arrested for gunfire. Wichita police used foam bullets, teargas, bean bags and other rounds.
It was a change for the department, which once received praise from President Obama after arranging a cookout with the city's Black Lives Matter chapter in 2016.
After the protests
As time passed, the intense calls for change that rang out in the streets clashed against various realities in the three cities.
In the background, former President Trump's campaign leveraged hyped-up political attacks by "antifa" through targeted political ads. Threats and violence from militia groups and white supremacists also ticked upwards across the country.
By August, Wichita's police chief, Gordon Ramsay, was using the city's brief spell of protests to argue that his agency needed more money, so that officers could receive more training for mental healthcare and engage in "community policing" – a form of patrol in which officers develop goodwill to build intelligence relationships with residents.
The proposal was for $7.3m in new funds. Many at a city council meeting on 11 August argued fiercely against it.
The increase would be "a slap in the face of democracy", said Lawanda Deshazer, a vice-president of the local NAACP. Deshazer suggested instead that Wichita cut the cost of school resource officers in half and put the money toward anti-poverty measures such as mental health services and homeless relief.
Wichita city council voted 7-0 to increase the police budget, including for hiring more officers. Recently, two protest leaders from last summer who were vocal about defunding Wichita police were convicted of protest-related crimes – spurring allegations of political targeting.
Broader reforms remain elusive, though some changes were made after the uprising, according to Sheila Officer, president of Wichita's Racial Profiling Citizens Advisory Board. Wichita police started issuing vouchers to some drivers for minor auto repairs instead of writing traffic tickets. A policy mandating officers intervene when a colleague misbehaves was also added, and Officer says she is now advocating to alter the local police union contract.
Among other issues with the contract, Officer said, is that it gives police the upper hand in the investigative process after they kill someone.
"The public and the community that they serve need to have input on what and when the contract will be up for renewal," Officer said.
In Spokane, the city recently approved its contract with the local police union, which had sought to weaken the authority of the city's police watchdog office. That proposal failed, but the union was able to boost salaries for officers.
Sixty-one per cent of Spokane's general fund in its 2021 budget is marked for "public safety and judicial services", including police. With a relative high rate of homelessness, mental health workers from a non-profit health organization are often deployed to service calls alongside police. Some think this should change.
"We are working on finding ways to transition to a society in which our first responders are appropriately trained for what they're doing," said Gallaway-Tonasket, a member of the group Human Rights Activist Coterie of Spokane.
The culture of Spokane police is also a concern. Last October, officers were planning to attend a presentation by David Grossman, the "killologist" military veteran who trains officers how to attack and kill without hesitation. Though Grossman cancelled his appearance, another trainer filled in for him, leading to protests.
Kurtis Robinson, the local NAACP vice-president, is seeking a cultural change within Spokane police, and was recently appointed by Washington's governor to a state law enforcement training commission. He says some protesters have criticized his willingness to engage in dialogue with police, but believes it's the right path.
"Hopefully, we see a reduction and diminishing of the fragile pushback [from police] that we sometimes get far too often over here, that blue fragility," Robinson said.
By outward appearances, Asheville seems like the most responsive to the demands of protesters. The city passed a resolution to study a local reparations program for Black residents, and the city council slightly reduced the police budget by reshuffling positions. This past March, the city voted to remove a large downtown Confederate monument.
Yet nearly a year after the reparations resolution was passed, Asheville has made little movement. Other gains have been small and primarily symbolic. Further delay of the reparations initiative could "widen divides in the community and reinforce the existing distrust that the local black community has in the government", according to a group of Harvard graduate students studying progress in Asheville.
The city didn't respond to the Guardian's questions about these characterizations. In May, the city announced a Truth Telling Speaker Series, "the first phase of the city of Asheville's process to deliver community reparations for Black Asheville".
For Rob Thomas, who considers himself a "long-term abolitionist", nothing proposed by the city matches the scale of change he says must happen for Black people to come up from under the weight of state repression.
He pointed to a small investment the city made to provide free wifi access for people living in the city's public housing developments. Though touted as a win for bridging the digital divide, the city is giving less money than the county or the service provider.
For him, the solutions to violent policing are linked to improving life for Black people. Investments in communities must be paired with a reimagined conception of "public safety" that doesn't criminalize based on race or poverty.
"They need to give community control over the reparations commission, and they need to give land and money to the Black community to address the disparities, because there is no other solution out of any of this."
Elections: Gustavo Petro: 'Colombia doesn't need socialism, it needs democracy and peace' | USA
Gustavo Petro is the candidate to beat. In a political universe as atomized as Colombia's, the economist currently leads the polls as the favorite to win the presidential elections in 2022. It will be a race that he knows will offer no chance for let up and that will push him to take risks and take to the street in search of votes. This is, as Petro acknowledges, the only way to become head of state and cap an intense political career. At the age of 61, he has been a guerrilla in the insurgent organization Movimiento 19 de Abril (19th of April Movement), a senator and whip for former Colombian president Álvaro Uribe, mayor of Bogotá and a presidential candidate in 2018, when he finished second with over eight million votes (43%).
So, what will Petro do if he fails to win this time? "In that case, my political cycle will be over, because I cannot become an eternal candidate."
Petro is seated in one of the large and sparsely lit rooms within the Colombian Senate. The space, of neoclassical structure, is used for ceremonial events and in its cupola stands a mural commemorating the 1886 Constitution. On arriving for the interview, the presidential candidate announces he does not care for the work. Halfway through the conversation, when he recalling his time as a guerrilla and his support for the Constitution of 1991, he explains why: "Look at it closely," he says, pointing to the ceiling. "There are no women, not one. Only men; and the people only appear in a ghostly form, there at the back, you can see a few farmers and over there a few plainsmen. But what is represented entirely is the oligarchy. And the Church. I took up arms against this, I was tortured and spent time in jail."
During the three-hour interview, Petro, whose detractors accuse him of being a radical socialist, avoids offering a classical definition of his ideology under the evasive argument that the left-right political model has been superseded. He prefers instead to attack the petroleum economy, display his affection for former Brazilian president Lula da Silva and US politician Bernie Sanders and emphasize that his political program, when all is said and done, consists of applying the 1991 Constitution. "The necessities of Colombian society are not based on building socialism, but on building democracy and peace, period," he states.
Question. You are starting out as the favorite for the presidential elections in 2022, but you're also the candidate who everyone has taken on as a rival. How will you combat that?
Answer. Coronavirus, lockdowns and the intensive use of social media have created a distance between us and the poorest people in the country over the last two years. This has hurt us. It's time now to take a risk and physically go among the working-class people, which has always been my forte. Without this effort, we would cease to exist. Many candidates look to the middle and upper classes, but whoever wants to win the presidency has to bring out the passion of ordinary people. This is countered by the practice of corruption and buying votes with mafia money. Only passion can overcome this. If I can achieve that, I will be the president of Colombia.
Q. To what extent does the candidacy of Colombian economist Alejandro Gaviria affect your aspirations?
A. At the moment not at all. The polls show that he has no social strength, despite the huge media coverage afforded to him by the big corporate owners to try and paint him as my opponent. I believe that Colombian liberalism must choose between more neoliberalism, which will destroy the country, or guaranteeing the fundamental rights of the people. The liberal leadership should have, and there is still time, retaken the path of ongoing revolution and forged an alliance with progressivism. Today, my rivals remain [former mayor of Medellin] Sergio Fajardo and Álvaro Uribe.
Q. Do you genuinely think that Fajardo could give you his backing if he doesn't make it to the second round of voting? In the 2018 elections, he and other progressive candidates did not do so.
A. The current polls indicate that Uribism will not make the second round. This bar will be passed by the project I represent, Pacto Histórico, and that which you refer to as progressive sectors, which are basically liberalism without an agenda and which have constructed a discourse, shall we say a la [Brazilian novelist] Paulo Coelho, very like a literary bestseller, without getting bogged down in concrete problems. If the polls are confirmed, Uribe's electoral base will automatically support this Coelho formula to halt the social, economic and political change I represent. This explains why the center's discourse is so ethereal, because it is waiting, if it makes it to the second round, to channel Uribism to try and defeat me.
Q. And is this also true of Alejandro Gaviria if he loses? Will he not support you either?
A. Alejandro is a neoliberal. I asked Colombian neoliberalism to overcome this kind of thinking to construct a majority that would change the history of this country. The answer was no and I believe that he will stick with that no.
Q. Indeed, you offered Gaviria a mayoral candidacy in 2019. Was that a mistake? Was he a good candidate then but not a good one now?
A. I have not put forward candidates. I have put forward programs. In the case of the Bogotá mayoralty in 2019, we presented our proposal to María Robledo, Alejandro Gaviria and Claudia López, who is the current mayor. None of them accepted.
Q. In 2018, your formula for the presidency was the feminist Ángela María Robledo, who later disassociated herself from you, asking you for a reflection on feminist policies. What are your proposals in this regard?
A. Feminism has remained with the old traditional left in the intellectual sphere of the big city, without any link to the population as a whole. [As mayor of Bogotá] I started to understand that there had been a kind of divorce between the feminist agenda and the agenda of a woman living in the city. That is a huge mistake that the movement needs to resolve, because it is necessary to build an agenda for the women of Colombia.
If I had the opportunity to become president and carry out agrarian reform, I would not give the deed to the male farmer, but to the woman. This has to do with something I see as fundamental as, at the end of the day, male farmers allowed their land to be lost, in many cases, it was even sold to the mafia, because their link with the land is basically productive, commercial, while the relationship women have with the soil is more based on looking after it, which is very similar to the indigenous sentiment in Colombia. Looking after fertile land, which is also looking after water and food for the rest of society, is a task that can be much more efficient in the hands of women rather than men. I have been arriving at these kinds of thoughts but not through the hand of feminism, which has not raised these issues. An agenda has arisen that I call feminist and which I give a prefix, popular – popular-feminism – which seems to me to be bringing us closer to the concrete possibility that women can have power within this society.
Q. If you are elected, what will the first measure you take as president be?
A. I recently opened one for debate, which is to end oil exploration, but not exploitation. The old coffee-growing country has been left behind and sadly we moved into oil and coal. This is unsustainable and will bring about extinction. We need to move away from an extractivist economy and move towards a productive one. The energy transition is a decision that could be made on day one. And foreign exchange can be replaced by tourism, which means attracting 15 million tourists instead of five million. With this country's natural beauty, culture and biodiversity that is not an exaggerated target but it requires one basic condition: peace. Tourism will not grow if we are killing each other.
Q. You have said of yourself that you were a leftist but that you are not now proposing a leftist program, a socialist program, but one of "democratic capitalism." What does that mean?
A. It's not that I was and now I am not. It's that I have stopped looking at politics in that way. From when I was a young man who wanted armed revolution to today, many things have happened in Colombia and the world. The 19th of April Movement [M-19], of which I was a member, never belonged within the Soviet orbit, but rather revindicated armed and clandestine social-democracy until there was peace and the fruit of that agreement was the Constitution of 1991. But it was not applied. In the 1990s, the genocide of the Colombian people took place, with 200,000 deaths, and the rise of paramilitarism. Today, 30 years later, the Constitution remains in force but it is not being applied. From that perspective, my program for government is the Constitution and my reforms will not be categorized as leftist in Europe. The necessities of Colombian society are not based on building socialism, but on building democracy and peace, period."
Q. How would you describe your relationship with the economic powers in Colombia?
A. The establishment does not want change. It has become wealthy with an economic model that prioritizes the financial sector and is based on the extraction of oil and coal. In 2013, we exported $40 billion [€34 billion] worth of these resources. But this money is distributed among a very privileged economic class – basically the owners of the banks and the big cartels that secure government contracts. That's why they always want more oil, more neoliberalism. A model like this increases social inequality, which is the mother of violence. The owners of the large economic conglomerates, therefore, do not want me. And as they are the owners of a good part of the social communication structure, they use the media to try and destroy our project.
We need to move away from an extractivist economy and move towards a productive one
Q. You have some significant adversaries. During our conversation, you have highlighted the establishment, the economic powers, Uribism, a large part of the media and the center that you mentioned. How do you intend to win?
A. In Colombia, we have a state that cannot be called democratic, despite the fact that there are elections, because the electoral method is coopted by a series of regional de facto totalitarianism, where the population lives in fear and the candidates are under the control of those who have the weapons and the money. The Colombian mafia holds political power, it moves within the institutions of state, it can influence the laws of the Republic. The corruption of the mafias has a social basis, which is the backbone of popular support for Uribism. But there is another section of society that thinks that we can change history. What we are delineating today is whether Colombia can be built as a democratic nation or not. If the answer is no, Colombian society will undergo further social and political degradation, and even into very deep spirals of violence.
Q. And in those spirals of violence, do you fear an assassination could be carried out?
A. Yes. That is on the agenda. In fact, throughout history, many progressive candidates, even without being among the favorites, have been assassinated. Over the course of these months, we are witnessing the extermination of those who made peace with the [Revolutionary Armed Forces of Colombia] FARC. Social leaders are also being systematically killed, and the youth protests that flared up in April, which were a by-product of the government's social anti-politics with Covid-19, the balance is terrible: 100 young people killed directly by the security forces or the paramilitary police and 60 disappearances. The responsibility of the president, Iván Duque, for real crimes against humanity is total.
Q. Do you support putting Duque on trial?
A. For the systematic assassination of young people? Unquestionably.
Q. And will you push for it, if you are president?
A. I will not have judicial power in my hands, nor do I wish to, although I do believe that it should be afforded more independence so that serious crimes are tried because the common denominator in Colombia is impunity. But I do not view justice in terms of punishment, in life sentences. I believe that Colombia is nearing a historic moment of social forgiveness that should permit it to move on to another era, but this forgiveness should not signify impunity. This forgiveness has to be built on the basis of reparation for the victims and truth understood as the place where responsibility lies for this series of crimes against humanity, responsibilities that not only fall on those who pull the trigger, but on those who facilitate and finance this, on those who use the state to protect this kind of activity. They are the true drivers of the genocide and they are the ones who have directed the country economically and politically.
Q. Do you think the work of the Truth Commission, agreed to under the peace accords with FARC, will serve this purpose?
A. The Special Justice for Peace is on the path that I am talking about here. But I think that the country has made a mistake in thinking that peace can be achieved exclusively by negotiating with armed organizations. What is required is a pact of coexistence, whose central protagonist is neither an armed nor state organism, but society.
Q. Isn't this country too divided for a pact of coexistence?
A. It's precisely because it is divided that one needs to be proposed. A pact of coexistence that is based on education and public health, with the status of work, with the ownership of rural land… the other way is armed and mafia-based Balkanization. It would become a process of disintegration that would also affect Venezuela and Ecuador and destabilize the region. Proposing an agenda of reforms such as this would imply leaving the neoliberal project aside and deepening democracy. But this is viewed by middle- and upper-class sections of society here like communism, as though we were dealing with a post-capitalist Cuban revolution, when what we are putting forward are reforms designed, simply, so that we can live in peace.
Q. The right has accused you of being pro Castro and Chávez.
A. Aside from the fact that both [Cuban revolutionary leader] Fidel Castro and [former Venezuelan president] Hugo Chávez are dead, this is a concept invented by Álvaro Uribe that does not exist. What did exist was a certain rhetoric on Chávez's part, he was a soldier and when he started to understand the Latin American left, which has more or less always been guerrilla, he tried to fill the void of his origins with the traditional socialist rhetoric that has now become the official discourse of the Venezuelan government – a traditional socialist rhetoric without socialism, because an economy that relies on oil is not socialist.
Q. What do you think of Nicolás Maduro?
A. I was never close to him; I always distrusted him. I also never understood why Hugo Chávez anointed him in his final days. [Chávez] was an undoubted leader, he stirred up the population and he would have won every election without the need for any kind of fraud, but the people he surrounded himself with lived thanks to oil, and he never thought about an alternative, he didn't build an administration capable of getting Venezuela out of its dependence on oil and back to a productive economy. There is an enormous inability, which can be seen as much in the government as in the opposition, to construct this agenda.
Q. And what solution would you propose?
A. We have to respect the Venezuelan process. What Duque has done is worse, by trying to impose his will. Afghanistan has shown us clearly that trying to resolve the internal problems of another country only makes things worse. It is the people that determine change. We would maintain good neighborly relations with all the countries that border Colombia, regardless of their ideologies. [And with Venezuela] what I would do on day one is re-establish relations.
The Colombian mafia holds political power, it moves within the institutions of state, it can influence the laws of the Republic
Q. Wouldn't it be easier to find a solution if Maduro stepped down?
A. Maduro, contrary to everything I am proposing for Latin American progress, has sunk Venezuela even further into extractivism. His choice is the same as Uribe's, the same as Duque's with fracking. Handing out subsoil concessions to carry on living off gold and other minerals, such as coltan. Furthermore, there is a huge risk of armed appropriation, and if that occurs then the Venezuelan state will be dissolved, and this is where Duque has placed his chips. That will be the worst outcome for Colombia because it is almost akin to following the Syrian or Iraqi model, at a time when there is already armed conflict in our country. What I believe is that a political alternative will arise from the base of Venezuelan society. It is possible that Maduro, acknowledging that it has become a problem, will propose a different leadership for the official movement. But I do not know who would win an election today.
Q. Who are your living political reference points?
A. In Latin America I see ability in [former president of Ecuador] Rafael Correa. My only criticism is that, much the same as the rest of the American progressive leadership, he did not make any attempt to move away from an oil and coal-based economy for one based on knowledge. This is what I am proposing to Latin American progressivism. Nobody has paid much attention, but I believe that Lula could be closest to this idea. If I am governing this country and Lula is in power there [in Brazil], there will be an immediate rapprochement, an axis. I would not be so bold as to say the same for Mexico. [Mexican President Andrés Manuel] López Obrador seems to me to be stuttering, he has become more of an oil man. And worldwide… I find the Spanish leadership hard work and the French is in utter decline. I like [German Chancellor] Angela Merkel, because she has taken on the climate change agenda, although I do not know her personally.
Q. And US President Joe Biden?
A. Biden beat Sanders [in the Democratic Party presidential primaries]. Some people say it was the way to defeat [then US president Donald] Trump. I think that Sanders would have been the way to change the world. In any case, aside from the delivery of three million doses [of Covid-19 vaccines to Colombia] I haven't seen any changes in the agenda.
Q. You have spoken out frequently against drug trafficking and its corruptive power on society. How will you tackle it?
A. It is nonsense that today in Colombia marijuana is illegal. It could have a great exportation potential to every region in the world where it has been legalized. If its production was in the hands of small-scale farmers, it would also even be a way to substitute coca leaves. The problem of cocaine is more complicated. Colombia faces a world in which cocaine is illegal. That might change in the coming years, but it will not change under my government. What I propose so that the weight of cocaine activity does not cause the current levels of violence is to take away power from the mafia and that implies an agrarian reform that would make the farmers owners of the agro-industrial process.
Q. And what should be done about the drug traffickers?
A. They'll carry on, I am not unaware of the laws of the market, but they will be drug traffickers without power, without territorial control, without the state. When you have a weakened drug trafficker you can put forward a peaceful dismantling policy. In any case, drug trafficking will only end with comprehensive worldwide legalization, but that is not my short-term perspective.
An economy that relies on oil is not socialist
Q. And what about dissidents from the armed group National Liberation Army (ELN) and FARC?
A. In Colombia in this day and age it is impossible to wage a war without coming into contact with drug trafficking. And if you remove power from the drug traffickers, the ELN and FARC dissidents will go back to civil activities more easily than those purely involved in drug trafficking.
Q. Do you agree with the removal of statues of explorer Christopher Columbus in Colombia?
A. I would preserve everything, because it is history for better or for worse. The thing is that in history the voices of the conquered, those that resisted, must be heard. It is not logical that a city such as Cartagena, in the Colombian Caribbean, where slaves arrived from Africa and that was an emblem of resistance against the Spanish, does not have monuments to these resistances or to indigenous people or to Afro-Colombians. And, on the other side of the coin, there are monuments to conquistadors and pirates. It is not a case of pulling down monuments to the elite, but the others should be present as well.
Q. If you do not win the election, what will you do?
A. In that case, my political cycle will be over, because I cannot become an eternal candidate. It will mean the failure of the project, that an agreed solution to fundamental reforms to coexist in peace has failed. What could come then? I don't know. I don't know what would become of a Colombian society cast into the abyss and without a democratic way out. Uribism will attempt to perpetuate its model, but that will lead to violence. There could be a substitution of our model for another democratic project, but that will fall to another generation, not ours. I would consider my political cycle at an end.
Q. And what will you do then?
A. I could write. I have talked a lot, but I have not written much.
English version by Rob Train.
UN food summit will be 'elitist' and 'pro-corporate', says special rapporteur | Global development
The UN global food summit is "elitist and regressive" and has failed in its goal of being a "people's summit", according to the special rapporteur on food rights.
As world leaders prepare to attend the virtual event on Thursday, which aims to examine ways to transform global food systems to be more sustainable, Michael Fakhri said it risked leaving behind the very people critical for its success. In an interview with the Guardian, Fakhri said neither the worsening impact of the coronavirus pandemic on the right to food, nor fundamental questions of inequality, accountability and governance were being properly addressed by the meeting.
"The summit is being led by scientists and research institutes who are pro-corporate sector," Fakhri said. "People say, let's give them the benefit of the doubt, let's see if it is the 'people's summit' it is claiming to be."
"But they have failed in what they had set out to do. It is not the people's summit. It is elitist.
"In the day-to-day operations of the summit, corporations do not have a role," said Fakhri. "But the leadership picked comes from organisations that believe corporations are part of the solution."
Called by the UN secretary general, António Guterres, the meeting was welcomed for recognising that farming has been largely ignored in climate talks. But its progress has been mired in controversy, as arguments continue over the causes of growing hunger and diet-related disease and whether the event is biased in favour of hi-tech intensive farming.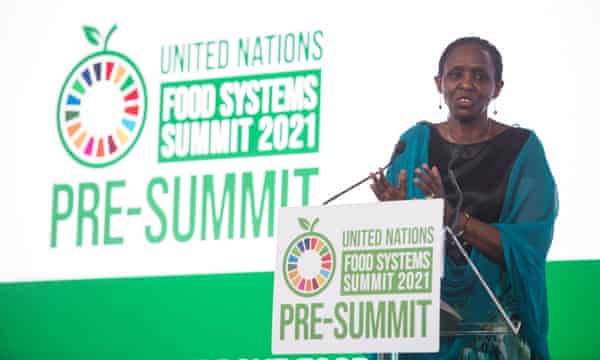 Guterres' choice of Agnes Kalibata, the former Rwandan minister for agriculture, to lead the summit was met with protests last year, given her role as president of the Alliance for a Green Revolution in Africa (Agra), which has been accused of promoting damaging, business-focused practices.
In March, the Civil Society and Indigenous Peoples' Mechanism, a group of more than 500 civil society groups with at least 300 million members, said it would boycott the summit and set up a parallel meeting. In a separate initiative, 148 grassroots groups from 28 countries, which make up the People's Coalition on Food Security, urged the UN to sever the "strategic partnership" with the World Economic Forum, the organisation that hosts the annual Davos economic summit for the global elite.
Kalibata responded to criticisms at the time saying: "The entire purpose of the summit is to embrace not only the shared interests of all stakeholders but also – importantly – the areas of divergence on how we go about addressing the harsh reality humanity faces. If we are to build more inclusive food systems, we must be prepared to have inclusive debate."
Fakhri said: "They claim to be listening to people. They invited me to provide human rights advice. But I haven't seen any substantive response to my criticism.
"What I witnessed was a summit that was called for before the pandemic and continued as if there was no pandemic. What we are going to see is a summit whose value is a snapshot of all the problems we had before the pandemic. But the problem has got worse."
In 2020 the number of people without access to adequate food rose by 320 million to 2.4 billion – nearly a third of the world's population, according to Fakhri's interim report on the right to food. The increase is equivalent to the previous five years combined.
The boycott of the event by organisations representing millions of people highlighted how "regressive the summit is in terms of human rights", he said. "This is the first regressive move in the summit's 60-year history."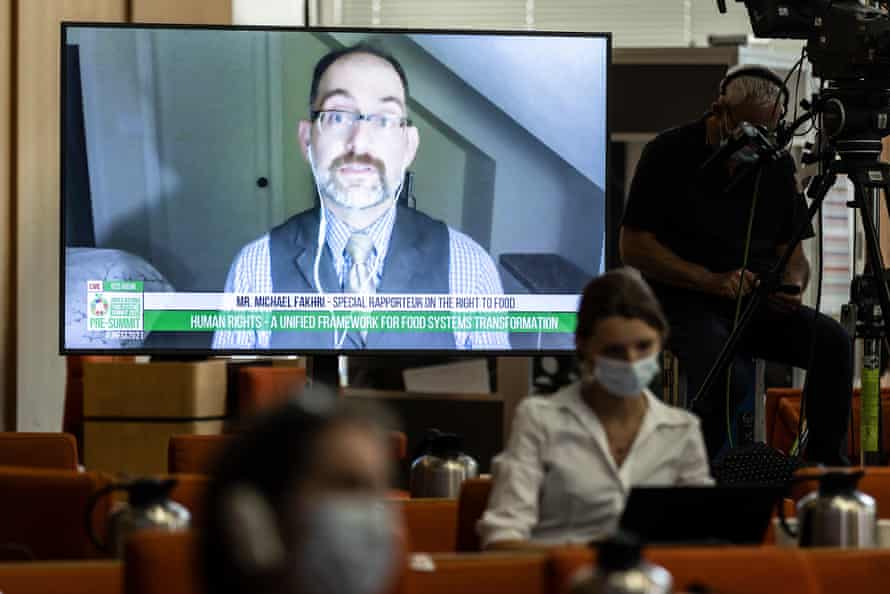 Fakhri said the summit's multilateral approach, which he claims is driven by the private sector, has not provided a meaningful space for communities and civil society to participate, with the risk of "leaving behind the very population critical for the summit's success".
He wrote to Kalibata in January, saying the global food crisis was "chronic, urgent and set to intensify" but that the summit appeared focused on science and technology, money and markets. It failed to address "fundamental questions of inequality, accountability and governance", he said.
Fakhri said that "everyone is in agreement" that, with famine and food insecurity on the rise, food systems are not sustainable, but the summit is not dealing with the "power balance" many believe is responsible.
"The summit doesn't want to answer those questions or deal with corporate power," he said.
The most inclusive space, that of the UN Committee on World Food Security (CFS), has been "marginalised", he said, along with human rights. The CFS was formed in 2009 to give farmers and communities an equal say with big businesses.
Farmers and others have been demanding a food system transformation rooted in food sovereignty and agroecology for a decade, Fakhri said, but it required a questioning of economic assumptions, protection of human rights and a rebalance of power.
"Food systems are being transformed in real time and people need solutions today, in reality, not this fantasy that has been going on."
He believes nevertheless, that good things had emerged from the summit, including activating governments to devote their energy to national food policies.
"The second good thing is, despite its shortcomings and problems it has created new relationships. A lot of people committed to human rights were frustrated by the summit process but found new allies and opportunities for solidarity."
He urged those who felt sidelined to take action and to "hold corporations accountable". "People who are frustrated, don't let the summit lead you to despair. Take your ideas, there will be a local food justice group or trade union, go join and participate there."
In response to Fakhri's comments, the spokesperson for the secretary general, Stéphane Dujarric, said: "Preparations for the UN food systems summit have been structured to ensure everyone around the world had the opportunity to participate through different platforms, in person and virtually. Several leaders from producers, farmers, women, Indigenous peoples, youth, and civil society engaged in the summit, representing millions of constituents from these groups. It is also important to note that the summit cannot achieve its objectives without engaging with the private sector."
Dujarric said more than 100,000 people have engaged in summit dialogues and more than 2,000 ideas on transforming food systems emerged within six months of public engagement, of which 400 came from farmer and producer groups, Indigenous communities and civil society.
On Tuesday, a report by the UN's International Fund for Agricultural Development showed profits for large food companies escalating, while people producing, processing and distributing food were trapped in poverty and hunger. It calls for a "revolution" to place small rural farmers, who produce a third of the planet's food, at the centre of the world's food systems.
EU to propose universal phone-charger law
The EU plans to propose laws harmonising mobile-phone, tablet, and headphone chargers and ports on Thursday in a bid to make life easier for consumers, Reuters reports. But Apple, whose iPhones use a special 'Lightning cable' has said the move will lead to piles of waste and deter innovation. Rival Android-based devices use so-called 'USB-C' connectors, but 'USB micro-B' and Lightning connectors account for about a third each of market-share.