America Fumbles Towards a Slow Motion Collapse
The author is a prominent American social critic, blogger, and podcaster, and one of our all-time favorite pessimists. We carry his articles regularly on RI. His writing on Russia-gate has been highly entertaining.
He is one of the better-known thinkers The New Yorker has dubbed 'The Dystopians' in an excellent 2009 profile, along with the brilliant Dmitry Orlov, another regular contributor to RI (archive). These theorists believe that modern society is headed for a jarring and painful crack-up.
You can find his popular fiction and novels on this subject, here. To get a sense of how entertaining he is, watch this 2004 TED talk about the cruel misery of American urban design – it is one of the most-viewed on TED. Here is a recent audio interview with him which gives a good overview of his work.
If you like his work, please consider supporting him on Patreon.
---
Nobody knows, from sea to shining sea, why we are having all this trouble with our republic. — Tom McGuane
Can a people recover from an excursion into unreality? The USA's sojourn into an alternative universe of the mind accelerated sharply after Wall Street nearly detonated the global financial system in 2008. That debacle was only one manifestation of an array of accumulating threats to the postmodern order, which include the burdens of empire, onerous debt, population overshoot, fracturing globalism, worries about energy, disruptive technologies, ecological havoc, and the specter of climate change.
A sense of gathering crisis, which I call the long emergency, persists. It is systemic and existential. It calls into question our ability to carry on "normal" life much farther into this century, and all the anxiety that attends it is hard for the public to process. It manifested itself first in finance because that was the most abstract and fragile of all the major activities we depend on for daily life, and therefore the one most easily tampered with and shoved into criticality by a cadre of irresponsible opportunists on Wall Street. Indeed, a lot of households were permanently wrecked after the so-called Great Financial Crisis of 2008, despite official trumpet blasts heralding "recovery" and the dishonestly engineered pump-up of capital markets since then.
With the election of 2016, symptoms of the long emergency seeped into the political system. Disinformation rules. There is no coherent consensus about what is happening and no coherent proposals to do anything about it. The two parties are mired in paralysis and dysfunction and the public's trust in them is at epic lows. Donald Trump is viewed as a sort of pirate president, a freebooting freak elected by accident, "a disrupter" of the status quo at best and at worst a dangerous incompetent playing with nuclear fire. A state of war exists between the White House, the permanent D.C. bureaucracy, and the traditional news media. Authentic leadership is otherwise AWOL. Institutions falter. The FBI and the CIA behave like enemies of the people. 
Bad ideas flourish in this nutrient medium of unresolved crisis. Lately, they actually dominate the scene on every side. A species of wishful thinking that resembles a primitive cargo cult grips the technocratic class, awaiting magical rescue remedies that promise to extend the regime of Happy Motoring, consumerism, and suburbia that makes up the armature of "normal" life in the USA. They chatter about electric driverless car fleets, home delivery drone services, and as-yet-undeveloped modes of energy production to replace problematic fossil fuels, while ignoring the self-evident resource and capital constraints now upon us and even the laws of physics—especially entropy, the second law of thermodynamics. Their main mental block is their belief in infinite industrial growth on a finite planet, an idea so powerfully foolish that it obviates their standing as technocrats.
The non-technocratic cohort of the thinking class squanders its waking hours on a quixotic campaign to destroy the remnant of an American common culture and, by extension, a reviled Western civilization they blame for the failure in our time to establish a utopia on earth. By the logic of the day, "inclusion" and "diversity" are achieved by forbidding the transmission of ideas, shutting down debate, and creating new racially segregated college dorms. Sexuality is declared to not be biologically determined, yet so-called cis-gendered persons (whose gender identitycorresponds with their sex as detected at birth) are vilified by dint of not being "other-gendered"—thereby thwarting the pursuit of happiness of persons self-identified as other-gendered. Casuistry anyone?
The universities beget a class of what Nassim Taleb prankishly called "intellectuals-yet-idiots," hierophants trafficking in fads and falsehoods, conveyed in esoteric jargon larded with psychobabble in support of a therapeutic crypto-gnostic crusade bent on transforming human nature to fit the wished-for utopian template of a world where anything goes. In fact, they have only produced a new intellectual despotism worthy of Stalin, Mao Zedong, and Pol Pot.
In case you haven't been paying attention to the hijinks on campus—the attacks on reason, fairness, and common decency, the kangaroo courts, diversity tribunals, assaults on public speech and speakers themselves—here is the key take-away: it's not about ideas or ideologies anymore; it's purely about the pleasures of coercion, of pushing other people around. Coercion is fun and exciting! In fact, it's intoxicating, and rewarded with brownie points and career advancement. It's rather perverse that this passion for tyranny is suddenly so popular on the liberal left.
Until fairly recently, the Democratic Party did not roll that way. It was right-wing Republicans who tried to ban books, censor pop music, and stifle free expression. If anything, Democrats strenuously defended the First Amendment, including the principle that unpopular and discomforting ideas had to be tolerated in order to protect all speech. Back in in 1977 the ACLU defended the right of neo-Nazis to march for their cause (National Socialist Party of America v. Village of Skokie, 432 U.S. 43).
The new and false idea that something labeled "hate speech"—labeled by whom?—is equivalent to violence floated out of the graduate schools on a toxic cloud of intellectual hysteria concocted in the laboratory of so-called "post-structuralist" philosophy, where sundry body parts of Michel Foucault, Jacques Derrida, Judith Butler, and Gilles Deleuze were sewn onto a brain comprised of one-third each Thomas Hobbes, Saul Alinsky, and Tupac Shakur to create a perfect Frankenstein monster of thought. It all boiled down to the proposition that the will to power negated all other human drives and values, in particular the search for truth. Under this scheme, all human relations were reduced to a dramatis personae of the oppressed and their oppressors, the former generally "people of color" and women, all subjugated by whites, mostly males. Tactical moves in politics among these self-described "oppressed" and "marginalized" are based on the credo that the ends justify the means (the Alinsky model).
This is the recipe for what we call identity politics, the main thrust of which these days, the quest for "social justice," is to present a suit against white male privilege and, shall we say, the horse it rode in on: western civ. A peculiar feature of the social justice agenda is the wish to erect strict boundaries around racial identities while erasing behavioral boundaries, sexual boundaries, and ethical boundaries. Since so much of this thought-monster is actually promulgated by white college professors and administrators, and white political activists, against people like themselves, the motives in this concerted campaign might appear puzzling to the casual observer.
I would account for it as the psychological displacement among this political cohort of their shame, disappointment, and despair over the outcome of the civil rights campaign that started in the 1960s and formed the core of progressive ideology. It did not bring about the hoped-for utopia. The racial divide in America is starker now than ever, even after two terms of a black president. Today, there is more grievance and resentment, and less hope for a better future, than when Martin Luther King made the case for progress on the steps of the Lincoln Memorial in 1963. The recent flash points of racial conflict—Ferguson, the Dallas police ambush, the Charleston church massacre, et cetera—don't have to be rehearsed in detail here to make the point that there is a great deal of ill feeling throughout the land, and quite a bit of acting out on both sides.
The black underclass is larger, more dysfunctional, and more alienated than it was in the 1960s. My theory, for what it's worth, is that the civil rights legislation of 1964 and '65, which removed legal barriers to full participation in national life, induced considerable anxiety among black citizens over the new disposition of things, for one reason or another. And that is exactly why a black separatism movement arose as an alternative at the time, led initially by such charismatic figures as Malcolm X and Stokely Carmichael. Some of that was arguably a product of the same youthful energy that drove the rest of the Sixties counterculture: adolescent rebellion. But the residue of the "Black Power" movement is still present in the widespread ambivalence about making covenant with a common culture, and it has only been exacerbated by a now long-running "multiculturalism and diversity" crusade that effectively nullifies the concept of a national common culture.
What follows from these dynamics is the deflection of all ideas that don't feed a narrative of power relations between oppressors and victims, with the self-identified victims ever more eager to exercise their power to coerce, punish, and humiliate their self-identified oppressors, the "privileged," who condescend to be abused to a shockingly masochistic degree. Nobody stands up to this organized ceremonial nonsense. The punishments are too severe, including the loss of livelihood, status, and reputation, especially in the university. Once branded a "racist," you're done. And venturing to join the oft-called-for "honest conversation about race" is certain to invite that fate.
Globalization has acted, meanwhile, as a great leveler. It destroyed what was left of the working class—the lower-middle class—which included a great many white Americans who used to be able to support a family with simple labor. Hung out to dry economically, this class of whites fell into many of the same behaviors as the poor blacks before them: absent fathers, out-of-wedlock births, drug abuse. Then the Great Financial Crisis of 2008 wiped up the floor with the middle-middle class above them, foreclosing on their homes and futures, and in their desperation many of these people became Trump voters—though I doubt that Trump himself truly understood how this all worked exactly. However, he did see that the white middle class had come to identify as yet another victim group, allowing him to pose as their champion.
The evolving matrix of rackets that prompted the 2008 debacle has only grown more elaborate and craven as the old economy of stuff dies and is replaced by a financialized economy of swindles and frauds. Almost nothing in America's financial life is on the level anymore, from the mendacious "guidance" statements of the Federal Reserve, to the official economic statistics of the federal agencies, to the manipulation of all markets, to the shenanigans on the fiscal side, to the pervasive accounting fraud that underlies it all. Ironically, the systematic chiseling of the foundering middle class is most visible in the rackets that medicine and education have become—two activities that were formerly dedicated to doing no harm and seeking the truth!
Life in this milieu of immersive dishonesty drives citizens beyond cynicism to an even more desperate state of mind. The suffering public ends up having no idea what is really going on, what is actually happening. The toolkit of the Enlightenment—reason, empiricism—doesn't work very well in this socioeconomic hall of mirrors, so all that baggage is discarded for the idea that reality is just a social construct, just whatever story you feel like telling about it. On the right, Karl Rove expressed this point of view some years ago when he bragged, of the Bush II White House, that "we make our own reality." The left says nearly the same thing in the post-structuralist malarkey of academia: "you make your own reality." In the end, both sides are left with a lot of bad feelings and the belief that only raw power has meaning.
Erasing psychological boundaries is a dangerous thing. When the rackets finally come to grief—as they must because their operations don't add up—and the reckoning with true price discovery commences at the macro scale, the American people will find themselves in even more distress than they've endured so far. This will be the moment when either nobody has any money, or there is plenty of worthless money for everyone. Either way, the functional bankruptcy of the nation will be complete, and nothing will work anymore, including getting enough to eat. That is exactly the moment when Americans on all sides will beg someone to step up and push them around to get their world working again. And even that may not avail.
---
James Howard Kunstler's many books include The Geography of Nowhere, The Long Emergency, Too Much Magic: Wishful Thinking, Technology, and the Fate of the Nation, and the World Made by Hand novel series. He blogs on Mondays and Fridays at Kunstler.com.
Beattie faces long road to redemption after offensive tweets emerge
In The Strange Case of Dr Jekyll and Mr Hyde, Robert Louis Stevenson's Gothic tale, the civilised Jekyll, fascinated by the duality of his personality, manages to embody his evil side in the depraved Hyde, then finds he cannot control the transition between the two. Hyde runs amok. That's Doug Beattie's twitter account, firing out messages full of attitudes and prejudices that the Jekyll side of Beattie, the man attempting to modernise the Ulster Unionist Party, claims he never had.
Last Saturday, Beattie was all over the front pages with a beaming photo, the only party leader to get a good rating in the new opinion poll. He was in soaring form. "They couldn't have picked a smugger picture," he tweeted, with laugh-till-you-cry emojis. That night, still buoyant, he tweeted the now infamous joke that has led to him being sued by the Democratic Unionist Party's former leader, Edwin Poots. It involved the wives of unionist party leaders, brothels and bodily odours, and many who read it recoiled, then told him it was awful.
Jekyll Beattie responded: 'Awful, just awful… I'm ashamed… I can't justify that… horrendous, horrific… I've no excuse…'
Beattie took it down, apologised, said he had not meant to cause offence. But the truffle hunters of twitter had a scent. Soon they had snuffled out a haul of Beattie tweets that paraded every offensive stereotype in the charge book. Most dated back to the years 2011-2014, when he was a British army captain in his 40s.
Most were meant to be funny but could only have amused sexists, racists or those indifferent to people not exactly like them. Some were salacious, though more 1960s Benny Hill creepy than 2018 Belfast rape trial nasty. They featured schoolgirls' skirts, "hookers", randy, drunken Gurkhas, and humourless feminists with hairy chins. Other tweets held forth on the inability of women, foreigners and people from minority ethnic groups to do things properly. Leave it to the white man.
The next photos of Beattie to appear were of a man humiliated and almost broken. In a statement, now pinned to his twitter feed, he acknowledged and apologised for misogyny, said he was ashamed and embarrassed, and vowed to do better. He embarked on a series of media interviews. He was alone. No press officers, no advisors. He told BBC Northern Ireland's Stephen Nolan, "My confidence is gone." But there was something strange about his penance. He was contrite, though he did keep trying to consign Hyde Beattie to history, even though he had sallied forth just last weekend. Nolan read out the tweets. Jekyll Beattie responded: "Awful, just awful… I'm ashamed… I can't justify that… horrendous, horrific… I've no excuse…" But he also professed bewilderment: "I am not the person who was portrayed in those tweets… it's not me… even ten years ago it is not who I was." He was adamant that he was "no racist".
Offence is not the worst outcome of misogyny and racism. These prejudices inform behaviours that cause real and profound harm
When Nolan offered his distraught interviewee the option of pleading post-traumatic stress given his military postings to war zones in Afghanistan and elsewhere, Beattie allowed that on returning from environments in which there was "toxic testosterone", "you decompress, you desensitise". He spoke of using "dark humour" which was not, he said, meant to cause offence. But offence is not the worst outcome of misogyny and racism. These prejudices inform behaviours that cause real and profound harm. A climate is created, and denied. It is disempowering. People have to waste energy fighting it, energy that others use to thrive.
Put Captain Beattie's jokes in context. In 2009 a young black man joined the British army. He was awarded best recruit in his year and had high ambitions. But in 2013, after serving four years in Afghanistan, he quit. He had put up with a lot of "dark humour", he said, but what started as banter had intensified into outright racism. Raising it with a superior officer made matters worse. "If you talked," he said, "your career was screwed." He was persuaded not to cite racial discrimination as his reason for leaving, and put down health reasons instead. In 2015 a young woman in the British navy reported a more senior officer for repeatedly groping her. She was ostracised and nothing was done. Another discovered in the course of leadership training that a male armoured commander would not take orders from her on the radio, "because I am a girl". Women and black and minority ethnic personnel are under-represented in the British forces, and are repeatedly found to have been subjected to more bullying and harassment at work than white men.
On a BBC NI discussion last week the People Before Profit MLA Fiona Ferguson said that misogyny was institutionalised in Northern Ireland. It was rampant and faced by women on a daily basis. She mentioned bodily autonomy – the Ulster Unionist Party's health minister continues to thwart implementation of the abortion law. She asked why women were consistently responsible for most caring roles, why they received lower pay than men. UUP veteran Chris McGimpsey said she was exaggerating. She accused him of mansplaining.
With 90 per cent of its MLAs men, it is no exaggeration to say the UUP is a male-dominated party. Beattie pointed to the work he has done to bring in progressive young women. In truth, he needs them to grow his party among those unionists who reject the hopelessly sexist and homophobic fundamentalism of the DUP. These women stood by him last week with more than the grim, stoical smiles of wives of public men who have done them wrong and been found out. But Beattie's commitment to equality is also undermined on another front. He claims he supports the Belfast Agreement but refuses to declare whether or not he would work in an executive with a Sinn Féin first minister. Dr Jekyll has a lot of work to do.
Latina singers: From flamenco to Spanglish: Why Rosalía's latest album is causing a stir | USA
When Spanish singer Rosalía appeared live on Spain's Cadena SER radio network to present her album El mal querer in November 2018, everyone wanted to see what she had to say. Even the crew of the radio program La Ventana were eagerly awaiting the interview, something that, according to radio presenter Carles Francino, had never happened before, not even with such distinguished guests as Spanish prime ministers, Nobel prize winners or the actor Richard Gere. Rosalía was 25 years old at the time and had two albums to her name. Her responses captivated the interviewers who praised her in hyperbolic terms, comparing the Barcelona-born artist to legendary Spanish copla singer Miguel de Molina. Francino said she had triumphed because she was "very good and very different" – paraphrasing the iconic Spanish poet Jaime Gil de Biedma.
And Francino wasn't the only one to sing Rosalía's praises. In a pre-recording, Martín Guerrero, the managing director of Casa Patas, a seminal flamenco venue in Madrid, said that Rosalía was "electrifying, thrilling and unique." The comments section below the YouTube video of the interview, which has more than 500,000 views, is also filled with messages extolling the singer. "From her vocabulary and her way of thinking, I thought she was a very poised woman, who knows what she is saying when it comes to music and music history and knowledge. She is not your average girl. She is a genius," one YouTube user wrote.
Francino, perhaps sensing what was about to happen to the pop star, brought the interview to an end with a request: "We are just asking you one thing, Rosalía: don't change." He could not have asked anything more difficult of her.
A little over three years later, the public is eagerly awaiting her third album, Motomami, which will be released sometime in 2022. Rosalía has given a preview of what's to come, sharing snippets of songs such as Candy and Saoko on social media. But the single that has caught the most attention is Hentai, a slow ballad accompanied by piano whose lyrics have triggered bafflement and disbelief. The sexually explicit nature of the song and Rosalía's use of Spanglish quickly became fodder for internet memes and jokes. In the 20-second clip of the track, Rosalía sings "Te quiero ride como a mi bike" or "I want to ride you like my bike." The educated and cultured singer, who used to cite centuries-old poetry, sounded like someone completely different.
"It's as if the person who does the songs for [children's band] CantaJuegos had come home drunk and horny and had opened a notepad," wrote one Twitter user. "Rosalía is now making music by taking random words from the dictionary," read another message. The backlash was so great that, a few hours later, Rosalía herself even tweeted about it. "The people who are upset about the lyrics in Hentai, are you okay?"
It has not been a sudden change. Since her debut album Los ángeles, in which the singer made reference to flamenco singers La Niña de los Peines and Enrique Morente, as well as the poet Federico García Lorca, to the explicit and visceral Hentai, five years have passed. In that period, Rosalía has gone from being 24 to 28 years old, and she has experienced a global pandemic that kept her in Miami and away from her family for the first time. She has traveled across Latin America and rubbed elbows with the leading figures of the international music scene. A few months ago, she released a collaboration called Linda with the Dominican rapper Tokischa. The lyrics of the feminist tune – "nos besamos pero somos homies" or "we kiss but we're homies" – surprised her fans for its simplistic nature. "It's true that there wasn't a bad rhyme in her first two albums, her lyrics were excellent. In contrast, in her latest songs there are terrible rhymes," says Jorge Carrión, the coordinator of the book La Rosalía, ensayos sobre el buen querer (or, Rosalía, essays on 'el buen querer').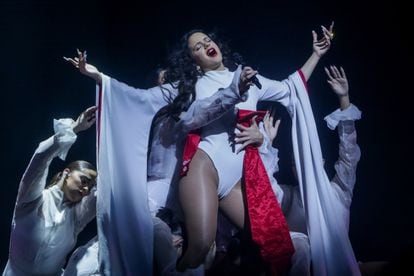 It's impossible to separate Rosalía's new music from her travels across the Americas, which she herself has documented in great detail. Like many other stars of today, she has opted to overshare on social media, where she uploads posts on every step she takes without any apparent communication strategy. Her surprising friendship with US personality Kylie Jenner and the rest of the Kardashian family, which appears to be very close, was one of the first shocks. We have seen her surrounded by entrepreneurs such as Dave Grutman and Jonathan Cheban, living an opulent lifestyle (Spain's far-right Vox party accused her of being a millionaire and having a private plane) and alongside celebrities such as Christina Aguilera, Drake, Naomi Campbell and Hunter Schafer from the US hit series Euphoria.
Living in Miami, Rosalía has started to express herself like other Spanish singers who emigrated to the US before her, such as Julio Iglesias and Alejandro Sanz. The Argentinian newspaper Clarín described her accent as "indecipherable, a mix of Spanish, Catalan, Andalusian and Caribbean, riddled with words in English." In an interview with a Dominican newspaper, Rosalía explained that her friendship with the Kardashians began when she started to hang out with Kendall in Los Angeles, which she named using the English acronym LA instead of the city's full name as you do in Spanish.
Rosalía's constant use of social media clashes with her previous image as an avant-garde artist who had released two albums exploring issues such as grief and gender violence. In her Instagram and TikTok accounts we see a cheerful, exhibitionist and sexual young woman, who often shares photos of herself half-naked and is seen with impossibly long fake nails and heavy makeup. She is obsessed with her pet chihuahua and loves cars and motorbikes – to such a degree that she bought a €60,000 pink-upholstered Ford Ranger Raptor with "La Rosalía" embossed in the headrests. Sometimes she takes on a certain childish attitude as if she were a character of one of the anime series she loves. On TikTok, she shared a photo with the message: "POV: When you steal Raul's phone and it has FaceID." The message, written in Spanish and containing spelling mistakes, was difficult to make sense of for those unaware of her relationship with singer Rauw Alejandro, which became public at the end of 2021.
This free-spirited image has left its mark on her music, both in her collaborations and what has been heard of Motomami. Even the name of the album appears to announce a new era that is lighter and fresher. In the video to announce the album launch, Rosalía can be seen covered in red glitter in a jeweled bikini, motorbike helmet and stilettos. The music in the clip is more reminiscent of other contemporary pop artists such as Charli XCX, SOPHIE, Arca or Grimes than of the flamenco which launched her career.
The debate around Rosalía's transformation is not new. The jump from Los ángeles to El mal querer had already raised questions about whether the move from music that paid homage to traditional flamenco to music that was an explosive mix of genres with global reach was part of a sincere and organic transformation, or whether it hid a premeditated and commercial strategy. Rosalía has behind her a team of women, including her sister Pili, who is the artist's stylist, her mother Pilar, the administrator of the company Motomami S.L., which manages the financial side of her career, and her manager Rebeca León, who is a superstar herself within the Latin music industry. But Rosalía has always defined herself as a controlling and detail-oriented artist who devises far-reaching projects. She even studied sound engineering in order to have greater control over the creative process. "I'm not doing it for mere strategic reasons, but rather taking into account the reason why I make music: to share it. The priority is to be connected to each moment that I am living and for this to be a means of communication, not a monologue," she said in an interview with Spanish magazine MondoSonoro in 2018.
Despite his reservations, book coordinator Carrión is still interested in Rosalía's latest project, which he describes as daring. "I sense that she has both discovered so many new popular genres in Latin America and what it means to be a global artist. She has begun to collaborate with the leading figures in reggaeton, trap and other urban music genres and that has led to a fusion [of styles]," he says. He agrees with Sara García, a comedian and the creator of the stand-up show Riot Comedy, who has been closely following Rosalía, her music and her relationship with Madrid-born singer C. Tangana for years. "She has pulled a 'Miley Cyrus' and is making songs that have nothing to do with the aesthetic, rhythms or soul of El mal querer. She is sending us signals that Motomami is not going to have anything to do with what we have seen before."
These signs were always there. Rosalía may be multifaceted and unable to be pigeon-holed, but if there is something that defines her it is the way she incorporates everything she knows into her music. Her first album was marked by her studies in flamenco, while the second mixed this knowledge with personal elements such as the R&B music she listened to as a teen and the sound of motorbikes, which her parents have always owned. When she reached success, she wrote Milionària in her native language, Catalan, and now she is writing about the volatility of fame and sexual pleasure with her partner. She also speaks of her own chameleon-like nature in Saoko ("A butterfly, I transform / Drag queen make-up, I transform").
It's likely that the reservations about her public image on social media, the people around her and the lyrics of her new songs are no more than a manifestation of prejudices, a generational gap and a certain amount of sexism. We are simply not used to seeing a genius being happy, naïve, sexual and exhibitionist and blowing kisses in photos next to Kylie Jenner. Rosalía's greatest talent is in breaking the mold.
Plan to cut hospital waiting lists as Covid eases being finalised by HSE
The Health Service Executive is finalising a multi-annual plan to cut hospital waiting lists, as Covid-19 pressures ease.
Chief executive Paul Reid said the plan will build on previous work done within the Slaintecare process and be ready "within weeks".
The lifting of most restrictions earlier this month had given a great lift to health staff and the situation in hospitals and other services was now much better, Mr Reid told a media briefing on Thursday.
There were 711 patients with Covid-19 in hospital on Thursday, including 74 in ICU.
Some 53 per cent of patients with the virus were there because of Covid, while 47 per cent had been admitted for a different illness but were subsequently diagnosed with Covid, he said.
While this group is asymptomatic, the patients are also infectious, Mr Reid pointed out, and so require infection control measures.
About 4,800 HSE staff are off work due to Covid-19 infection or being a close contact, down 3,000 on two weeks ago.
Chief operating officer Anne O'Connor said hospitals are very busy, with attendances up 41 per cent last week on the same week last year, and 14 per cent on two years ago.
The use of surge capacity has increased and there were 571 delayed transfers of care last week.
Mr Reid enumerated the "learnings" made by the HSE over the period of the pandemic, which can now be built on for the future of the health service. There is greater integration between different services in acute public hospitals, the community and among GPs, pharmacies and private hospitals, he said.
In addition, the key role of public health teams came to the fore during the pandemic. Much had also been learned through the agility demonstrated by the health service during the pandemic, and there is now greater clarity on the role of the centre within the HSE as well as greater access for GPs to diagnostics.
Mr Reid said his priorities for the future were to build capability within the pandemic workforce and to prioritise waiting lists.
The multi-annual plan to improve access to care and reduce waiting lists will go to Government and the HSE board shortly, he said.
Other priorities include the further enhancement of community health networks, the consolidation of a single health service that includes the private sector as waiting lists are being addressed, and improved cybersecurity.
More than 200,000 doses of Covid-19 vaccine have expired as demand dropped and many people were unable to receive them due to recent infection, the briefing heard.
Asked whether he thought the pandemic was at an end, Mr Reid said no-one in healthcare was saying it was over. Yet the need for people to get back to normality was recognised, and there was never a more appropriate time for this than now.
Covid-19 might yet force a "recalibration" in the future but for now there was every reason to celebrate the lifting of restrictions.