Alec Baldwin shooting incident calls into question the legacy of the Western | USA
Moments before his life was changed forever, US actor Alec Baldwin was showing the cameras how to draw a revolver. After the actor's movement, a "whiplash" and a "loud bang" were heard on the set, according to a witness statement. Following the gunshot, Halyna Hutchins, the director of photography on the independent move Rust, clutched her stomach with her hands and took a couple of steps backwards. The set technicians helped her to sit on the floor, where she said that she couldn't feel her legs. She died a few hours later. The accident has shaken the movie industry and opened a debate not only over security in the entertainment business, but also over the deep-rooted gun culture of the United States.
Two days after the fatal accident, dozens of members of the International Alliance of Theatrical Stage Employees, a powerful 150,000-strong union that groups together behind-the-scenes movie employees such as set technicians, make-up artists, camera operators and prop handlers, gathered together in Albuquerque to pay their respects to Hutchins. It was a vigil filled with pain and anger, but the participants were divided over how the incident would change cinema in one of the most heavily armed countries in the world. The younger members stated that Hutchins' death would lead to the gradual banning of live-firing weapons on movie sets and their substitution by special effects. The more experienced hands pointed to protocol violations on the set of Rust, which has proven to be the exception to the rule in an industry where shootings are extremely rare despite the omnipresence of weapons in filming. On Monday, Dave Halls, the assistant director who handed Baldwin the loaded pistol, said via a communique that he hoped the tragedy would swiftly lead the industry to "re-evaluate its values and practices to ensure no one is harmed through the creative process again."
In the film, Baldwin, 63, was playing the role of an old outlaw being pursued by a US Marshal and a bounty hunter who goes to the aid of his 13-year-old grandson, who has been sentenced to death for an accidental killing. The veteran actor, who was also producing the movie, embodied the classic Western antihero: an old man who wants to right a wrong and who has nothing to lose. At the time of the shooting, he was holding a long-barreled Colt revolver in a scene similar to those played by hundreds of actors across cinema's long history, from John Wayne and Clint Eastwood to James Stewart and Gary Cooper.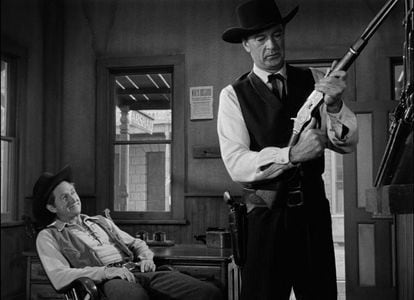 Nobody has explained the legacy of the Western in American culture better than the critic Robert Warshow. In a famous 1954 essay, The Westerner, he lays out why this genre has succeeded in capturing the hearts and minds of cinema-goers. "Values are compressed into the image of a lone man wearing a pistol on his belt. This tells us he lives in a violent world and he believes in it. Violence must come at the right time and with special rules, otherwise it holds no virtue," Warshow wrote. This hero of the Wild West, above all, is concerned about preserving "the purity of his image," and doesn't fight for what is right, but to express himself. "The Westerner is the last gentleman, and the movies which over and over again tell his story are probably the last art form in which the concept of honor retains its strength."
For a century, pistols have absorbed the values that the Western projects. A few weeks ago, Italian photographer Gabriele Galimberti published The Ameriguns, a project that took him to the homes of various gun fanatics in the US over the course of 18 months. During that time, he traveled across several regions of a nation that has more guns than it does inhabitants. Half of the world's total private armory is held in the United States: 393 million weapons for 330 million people. Galimberti's portraits are very effective in illustrating this statistic. "I met a family in Texas who had 216 guns. I recall the value of this arsenal was greater than the cost of the house that contained them. How is it possible that you spend more on guns than you do on the house in which you live?" he asks via telephone.
In Galimberti's interviews, the words "family" and "freedom" are frequently repeated, regardless of whether it was a couple from rural Kansas or a gay technology executive from San Francisco who were talking. "They tend to say that the guns are to defend their freedom and are almost always linked to the family," says the photographer. Many describe an initiation rite that starts when they are six or seven years old, when they fire a weapon for the first time under the guidance of their father or an uncle, in an outdoor pursuit that speaks to the mastery of nature. "That is usually exciting enough that it convinces them to go out and buy their first gun," explains Galimberti.
The golden age of the Western
Hollywood has reinforced this culture. The golden age of the Western, with its value system, witnessed its twilight in the 1970s when the antiheroes seduced the public under the hand of the New Hollywood. Cultural critic Peter Biskind wrote in his 2018 book The Sky is Falling that Clint Eastwood helped to erode the code of honor of the man of the Wild West. Eastwood, a supporter of the US Republican party, tells an anecdote in which the director Don Siegel asked actor John Wayne to shoot a man in the back in a 1976 movie. Wayne, who embodied the moral compass of the genre, refused. "I don't shoot people in the back," the star of Stagecoach responded. "Clint Eastwood would," Siegel replied. The big studios were becoming more and more conservative and the expansion of cable television, and much later streaming services, took advantage of the void to gamble on stories filled with violence, giving rise to characters such as Tony Soprano, Dexter and Walter White.
Siegel knew what he was talking about. He had directed Eastwood in Dirty Harry, which was a hit in 1971. The character, a tough detective who is hunting a serial killer in San Francisco, caused a furor with Eastwood's Smith & Wesson .44 Magnum. The man who created Inspector Harry Callahan is movie-maker John Milius, who worked on the scripts for the first two movies in the Dirty Harry series. Milius, who also co-wrote Apocalypse Now with Francis Ford Coppola, was a member of the board of directors of the National Rifle Association (NRA), the powerful pro-firearms lobbying group that is currently at its lowest ebb.
Milius is described as a "Zen anarchist with libertarian and Republican tendencies" by the journalist Frank Smyth, author of The NRA, The Unauthorized Story. One of Milius's movies, Red Dawn, was among the favorites of Timothy McVeigh, who was responsible for the 1995 Oklahoma City bombing that killed 168 people, including 19 children, and injured 680 more. Red Dawn is based on the recurring nightmare of the US right during the 1980s: a Communist invasion by the Soviet Union and its Cuban and Nicaraguan allies, who sweep through a small town in Colorado disarming its populace house to house. In 2012, a remake of Red Dawn starring Chris Hemsworth was released in which the invaders were North Korean. Milius proved decisive in an internal struggle for control at the head of the NRA, allying himself with Wayne LaPierre, the organization's president. When the NRA took note of Hollywood's power, it promoted the ascension of Charlton Heston, the star of classics such as The Ten Commandments and Ben-Hur, who was installed as president in 1998.
Will Hollywood witness any change after the tragedy on the set of Rust? Months before Hutchins' death, former Arizona House of Representatives member Gabby Giffords, who became an advocate for gun control after surviving an assassination attempt in 2011, asked movie-makers to give firearms regulation a voice in their stories. "Few industries play a larger role in shaping culture than the entertainment industry," she told Variety magazine in January.
All you need to know on getting the Moderna vaccine as a booster
People due to receive their Covid-19 booster vaccine in coming weeks will primarily be offered the Moderna dose at HSE vaccination centres.
The HSE is reported to have large supplies of Moderna due to expire next month, so that will be the main vaccine administered over coming weeks to the over-60s, over-50s, healthcare workers, and younger people in vulnerable groups – though it will be restricted to people over 30.
Anecdotally there are indications some people may be reluctant to take the Moderna vaccine. This may be due to Irish stocks about to expire shortly and/or confusion about its efficacy. This follows the company's chief executive Stéphane Bancel warning last week the Moderna jab may not be as effective against Omicron as it had been with the Delta variant.
The HSE has confirmed recipients will have no choice on what vaccine they are given.
What type of coronavirus vaccine is the Moderna jab?
It is a new kind of synthetic "mRNA vaccine" – the Pfizer/BioNTech vaccine is from the same stable. They provide excellent protection against severe illness and hospitalisation – and have played a critical role in reducing Covid-19 deaths since being approved. A downside, however, is that the Moderna version must be kept at -20 degrees.
Should people be worried about receiving a soon to be out-of-date vaccine?
| Total doses distributed to Ireland | Total doses administered in Ireland |
| --- | --- |
| 10,093,390 | 8,193,802 |
In short no, as they retain the ability to boost antibody production within currently approved time spans – though inevitably potency wanes over time. The Pfizer, Moderna, AstraZeneca, and Janssen (Johnson&Johnson) vaccines were put on the market with emergency use authorisation of up to six months.
This compares with a shelf life of two to three years for most vaccines and other medicines. This is an "inevitable consequence of getting the vaccines out of the door as quickly as possible", chief scientist at the Royal Pharmaceutical Society Gino Martini told the journal BMJ.
Months later, these "emergency" expiry dates remain in force for these vaccines. For approved Covid-19 vaccines, the initial shelf lives were based on data available at the time of submission for regulatory approval.
The long-term shelf life has not been extended for any of the vaccines. A shelf life extension would require supporting evidence from relevant stability studies. Vaccine manufacturers are monitoring batches of vaccines with the aim of providing a longer shelf life; probably the usual two years.
What about the Omicron threat?
While Moderna said existing vaccines including its mRNA version will probably be less effective against the Omicron variant, most experts believe they will continue to provide significant protection against severe disease and hospitalisation. It should be stressed, however, definitive indication has yet to emerge. That will be a matter of weeks, if not days.
Moderna has confirmed it is developing an Omicron-specific booster though manufacturing the new vaccine would take time. Tens of millions of doses could be available in the first quarter of 2022, but scale-up would not happen until the second quarter – provided it is shown such boosters are required.
What is the latest indication on the benefits of mixing vaccines?
Evidence supporting a mixing of vaccine doses has hardened over recent months. A study this week shows combining a first dose of the AstraZeneca Covid-19 vaccine with a second dose of either the Moderna or the Novavax jabs results in far higher levels of neutralising antibodies and T-cells compared with two doses of the AstraZeneca jab.
This finding also has important implications for lower-income countries that have not yet completed their primary vaccination campaigns as it suggests you do not need access to mRNA vaccines – and therefore ultra-cold storage facilities – to trigger an extremely potent Covid-19 vaccine response.
The study also bolsters confidence that using the Moderna vaccine as a booster dose in people who have previously received the AstraZeneca jab should result in high levels of neutralising antibodies and T-cells.
It follows separate data published last week suggesting the Pfizer and Moderna booster jabs can dramatically strengthen the body's immune defences.
Woman (90s) dies following single-vehicle crash in Co Clare
A woman in her 90s has died following a single-vehicle crash in Co Clare in the early hours of Tuesday.
The incident occurred at about 12.30am at Annagh, Miltown Malbay. The woman, who was the driver and sole occupant of the car involved in the crash, was pronounced dead at the scene.
Her body was removed to Limerick University Hospital, where gardaí say a postmortem will take place at a later date.
The road has been closed to facilitate an exam by Garda forensic collision investigators, and local diversions are in place.
Gardaí have appealed for witnesses – particularly road users who may have camera footage – to come forward. Anyone with information can contact Kilrush Garda station (065 908 0550), the confidential line (1800 666 111), or any Garda station.
What areas will be worst hit and what is closing?
Just how serious is Storm Barra?
Storm Barra is set to hit Ireland fully on Tuesday morning, with Met Éireann warning that the severe weather could pose a threat to life.
The storm will rapidly deepen over the west and south coast on Monday evening, bringing very strong winds and heavy rain on Tuesday and into Wednesday.
Met Éireann have also warned that there is a risk of snow, as well as coastal flooding, due to the combination of high waves, storm surges and high tide.
Southwesterly winds, which will later veer northwesterly, will reach mean speeds in excess of 80 km/h.
Severe or damaging gusts may reach speeds in excess of 130km/h.
Power and travel may be disrupted across the country.
What are the areas most affected?
There is a status red wind warning in place for counties Cork, Kerry and Clare. Cork and Kerry's warning starts at 6am on Tuesday and lasts until 9pm that evening.
Clare will be under a red alert from 4pm on Tuesday until 1am on Wednesday.
Limerick, Waterford, Galway, Mayo, Wexford, Dublin, Louth, Wicklow and Meath are also under an orange wind warning.
However, Met Éireann have advised that there is a strong possibility that the status orange alerts will escalate to status red.
A red marine storm warning will also be in effect for Irish coastal waters from north Mayo to Cork city.
The rest of the country will be under a status yellow wind and rain warning, with Met Éireann saying that heavy rain may result in surface flooding.
There is also a risk of snow over the entire country, and flooding in coastal areas.
Is it okay to go out in the storm?
People in the affected areas are being advised to avoid all unnecessary journeys, meaning you should stay indoors if possible.
People on motorbikes, cyclists, and pedestrians should take extra care if they have to travel, and they should avoid coastal areas.
Motorists are also advised to be more wary while driving, and to look out for fallen trees and debris on the road.
The charity Alone urged older people to take extra care and called on members of the public to "check in with their older neighbours and relatives and assist them if they need to travel to the local shop, post office or medical appointments during the bad weather".
What has been cancelled or closed?
The Department of Education, which oversees primary and secondary schools, has advised schools in red and orange alert counties to close.
The Department of Higher Education, which governs colleges, universities and further education institutes, has issued a similar statement, saying education institutions in red and orange alert counties should close also.
Creches, early learning and school-age childcare services in the 12 counties should not open tomorrow, according to the Department of Children. Services that close will receive Force Majeure funding, according to the department.
Bus Éireann services in Co Cork and Co Kerry will be suspended for the full day. Services in Co Clare will be suspended from 4pm on Tuesday until 1am on Wednesday. This cancellation will also apply to all routes operating into or out of the status red warning area including Expressway Route 51.
Some hospital appointments have been cancelled, and Covid-19 testing and vaccination centres in status red and orange counties have also been forced to close due to the storm. A list of the affected health services can be found here. The National Ambulance Service will prioritise emergency calls during this weather event but is urging the general public to think carefully before calling 999/112.
The Courts Service has also confirmed that all sittings in red alert counties have been cancelled.
The Department of Local Government said a large number of national parks and reserves including Killarney National Park and Muckross House would close on Tuesday and Wednesday. Powerscourt Estate in Co Wicklow will close from 8am until 1pm on Tuesday.
Aldi has also said its stores in Cork and Kerry will be closed all day Tuesday, and their Clare stores will shut at 3pm on Tuesday.
Lidl and Tesco stores in Cork and Kerry will also be closed all day.
How long is the storm expected to last?
According to Met Éireann, Storm Barra will gradually clear Ireland later on Wednesday and winds will slowly ease, with a more settled few days to end the week.