AIB in talks to buy back some State shares after €645m profit
AIB said on Thursday that it is in talks to buy back some of the State's shares as part of a plan to hand over €213 million to shareholders through dividends and stock repurchases, after it returned to profit last year.
The bank posted a net profit of €645 million for 2021 as lending grew and its level of performing loans increased.
While the company also freed up €238 million of bad loan provisions, having taken a €1.46 billion loans charge in 2020 at the height of the Covid-19 pandemic, the benefit of this release was more than offset by €318 million of exceptional costs.
AIB, led by chief executive Colin Hunt, is now planning to return to paying dividends after a two-year hiatus during the pandemic, with €122 million set to go to shareholders by way of ordinary dividends. The Irish Government currently owns almost 71 per cent of the bank.
The bank said that it has also ring-fenced €91 million for a share buyback programme – adding that it is in talks regarding a repurchase of some of the State's share as part of this move.
"Today I am pleased to announce that AIB Group delivered a strong performance in 2021 with a return to profitability and €213m of proposed distributions for our shareholders," said Mr Hunt. "It was a year of very significant progress across the group despite uncertainties related to the Covid-19 pandemic."
AIB executives had previously signalled to analysts in November that it was unlikely to start handing back excess capital to shareholders in 2023, beyond returning to regular dividends.
That's because the group would be concentrating on bedding in its recent acquisition of Goodbody Stockbrokers, investing in a life and pensions joint venture with Canada Life, and completing its planned purchase of €4.2 billion of corporate and commercial loans from Ulster Bank, as the latter exits the market.
Net interest income at AIB dipped by 4 per cent to €1.79 billion last year, reflecting the impact of the negative interest rate environment across the euro zone, lower average loan volumes and the bank's excess liquidity. During 2021 it expanded its strategy of passing on the European Central Bank's (ECB) negative rate on deposits to some €12 billion of AIB accounts, up from €4.7 billion a year earlier.
The bank also got some relief in the negative-rate environment by tapping an ECB lending facility – known as TLTRO III – for €10 billion. This allows banks to borrow at rates of as low as minus 1 per cent.
New lending at AIB increased by 13 per cent to €10.4 billion last year. With the overall Irish mortgage market seeing a 25 per cent increase in drawdowns to €10.5 billion, AIB managed to take a 28.3 per cent share of activity.
Late-night shows return after writers strike as actors resume talks that could end their standoff | Culture
Late-night talk shows are returning after a five-month absence brought on by the Hollywood writers strike, while actors will begin talks that could end their own long work walk-off.
CBS's " The Late Show With Stephen Colbert," ABC's " Jimmy Kimmel Live! " and NBC's " The Tonight Show Starring Jimmy Fallon " were the first shows to leave the air when the writers strike began on May 2, and now will be among the first to return on Monday night.
Comedian John Oliver got his first take on the strike out, exuberantly returning Sunday night to his "Last Week Tonight" show on HBO and delivering full-throated support for the strike.
Oliver cheerily delivered a recap of stories from the last five months before turnings serious, calling the strike "an immensely difficult time" for all those in the industry.
"To be clear, this strike happened for good reasons. Our industry has seen its workers severely squeezed in recent years," Oliver said. "So, the writers guild went to strike and thankfully won. But, it took a lot of sacrifices from a lot of people to achieve that."
"I am also furious that it took the studios 148 days to achieve a deal they could have offered on day (expletive) one," Oliver said. He added that he hope the writers contract would give leverage to other entertainment industry guilds – as well as striking auto workers and employees in other industries – to negotiate better deals.
Warner Bros. Discovery, which owns HBO, is among the studios on the other side of the table in the writers and actors strikes.
Network late-night hosts will have their returns later Monday.
Colbert will have Astrophysicist and author Neil deGrasse Tyson on his first show back. Kimmel will host Arnold Schwarzenegger. Matthew McConaughey will be on Fallon's couch.
All the hosts will surely address the strike in their monologues.
"I'll see you Monday, and every day after that!" an ebullient Colbert said in an Instagram video last week from the Ed Sullivan Theater, which was full of his writers and other staffers for their first meeting since spring.
The hosts haven't been entirely idle. They teamed up for a podcast, " Strike Force Five," during the strike.
The writers were allowed to return to work last week after the Writers Guild of America reached an agreement on a three-year contract with an alliance of the industry's biggest studios, streaming services and production companies.
Union leaders touted the deal as a clear win on issues including pay, size of staffs and the use of artificial intelligence that made the months off worth it. The writers themselves will vote on the contract in a week of balloting that begins Monday.
Meanwhile, the Screen Actors Guild-American Federation of Television and Radio Artists will begin negotiations with the same group, the Alliance of Motion Picture and Television Producers, for the first time since they joined writers in a historic dual strike on July 14.
Actors walked off the job over many of the same issues as writers, and SAG-AFTRA leaders said they would look closely at the gains and compromises of the WGA's deal, but emphasized that their demands would remain the same as they were when the strike began.
It was just five days after writers and studios resumed talks that a deal was reach and that strike ended, though an attempt to restart negotiations a month earlier broke off after a few meetings.
The late-night shows will have significant limits on their guest lists. Their bread and butter, actors appearing to promote projects, will not be allowed to appear if the movies and shows are for studios that are the subject of the strikes.
But exceptions abound. McConaughey, for example, is appearing with Fallon to promote his children's book, "Just Because."
And SAG-AFTRA has granted interim agreements allowing actors to work on many productions, and with that comes the right of actors to publicly promote them.
Sign up for our weekly newsletter to get more English-language news coverage from EL PAÍS USA Edition
Revitalizing Fall Cinema As New York Film Festival Takes Center Stage
By Cindy Porter
The fall film season has been a muted affair, with major festivals in Venice, Telluride, and Toronto lacking their usual fervor.
Hollywood's luminaries have been notably absent from red carpets, leaving an air of dormancy since the heady days of Barbenheimer.
However, as the 61st New York Film Festival kicks off, there's a palpable sense of awakening.
Labor disputes are inching toward resolution, hinting at a resurgence in the industry. Considering this, the festival promises to deliver an exceptional array of films, showcasing some of the year's finest cinematic offerings.
The Festival Lineup
Dennis Lim, the festival's artistic director, expresses optimism despite industry uncertainties, affirming that cinema's vitality endures.
The opening night feature, Todd Haynes' "May December" introduces a playful yet poignant narrative led by Natalie Portman, Julianne Moore, and Charles Melton. It sets the stage for a festival packed with noteworthy films.
Highlights at the Festival
Yorgos Lanthimos' Venice sensation "Poor Things" starring Emma Stone, offers a compelling blend of wit and intrigue.
Sofia Coppola's "Priscilla" with Cailee Spaeny portraying Priscilla Presley, promises to be a captivating exploration of a legendary figure's life.
Bradley Cooper's "Maestro" brings Leonard Bernstein's story to life, adding another layer of significance to its North American premiere.
"Ferrari"
The festival's closing feature, Michael Mann's "Ferrari," emerges as a masterpiece.
Starring Adam Driver as Enzo Ferrari, the film delves into a pivotal period in the auto maker's life, culminating in the high-stakes Mille Miglia race.
Mann's signature intensity permeates every frame, depicting the relentless pursuit of victory against the backdrop of impending peril.
Exploring Depth in Documentaries
The festival also showcases immersive documentaries, including Wang Bing's "Youth (Spring)" Steve McQueen's "Occupied City," and Frederic Wiseman's "Menus-Plaisirs Les Troisgros".
These monumental works, clocking over 200 minutes each, delve into diverse realms, offering profound insights into the human experience.
"Youth (Spring)"
Wang Bing's "Youth (Spring)" unveils the lives of young migrant workers, toiling tirelessly in textile factories near Shanghai.
Their hands move with frenetic speed, a testament to the demands of their low-paying occupations.
Considering this, Wang delicately unravels their personal stories of love, heartbreak, and aspirations, painting a poignant portrait of resilience.
"All of Us Strangers"
Andrew Haigh's "All of Us Strangers" unfolds within the confines of a near-empty apartment building. Andrew Scott's portrayal of a screenwriter, Adam, embarks on a journey of self-discovery, triggered by an unexpected encounter with Harry (Paul Mescal). Through intimate dialogues, the film navigates the complexities of memory, companionship, and the power of storytelling.
The New York Film Festival shines a spotlight on films that transcend the boundaries of time and space.
Its dedication to authentic cinematic experiences, unburdened by distractions, reaffirms the enduring power of storytelling.
Films like "Janet Planet" by Pulitzer Prize-winning playwright Annie Baker transport audiences to specific moments in history, immersing them in a world where silence and nostalgia take center stage.
As the festival unfolds, it offers a resounding testament to the indomitable spirit of cinema.
---
We Can't Thank You Enough For Your Support!
— By Cindy Porter
— For more information & news submissions: info@VoiceOfEU.com
— Anonymous news submissions: press@VoiceOfEU.com
---
Copyright Dispute: DC Comics And 'Fables' Author Clash over Ownership, Author Aims for Public Domain
This is a story full of fairy tales. In some ways, it even resembles one. And yet it also proves that, in the real world, things rarely end happily ever after. A few days ago, Bill Willingham, the father of the celebrated Fables comic book series, announced that he was sending his most cherished work to the public domain, that is, to everyone. That's only fair, since that is also where he got the main characters of his stories, from Snow White to the Wolf, from Pinocchio to Prince Charming, who were then relocated to modern New York. In this tale, the hero has long-faced mistreatment at the hands of the villains, DC Comics, the owner of Vertigo, which publishes the work in the United States, and its executives.
"If I couldn't prevent Fables from falling into bad hands, at least this is a way I can arrange that it also falls into many good hands," Willingham wrote in an online post in which he decried the label's repeated attempts to take over his creations and opposed them with this final extreme remedy. But the company responded that it considers itself to be the true owner of the series.
In a statement published by the specialized media IGN, the company threatened to take "necessary action" to defend its rights. Thus, the end of the dispute is uncertain. But it is unlikely that everyone will end up happily ever after.
In the meantime, in a new post, Willingham celebrated the massive support he received. In fact, for the moment, he has declined all interview requests — he did not respond to this newspaper's request, nor did the publisher — arguing that he preferred to spend the next few days working on new artistic projects. Meanwhile, the dispute continues.
Fables is one of the most celebrated graphic novels of the last 20 years, and it has spawned spin-offs and a video game adaptation (The Wolf Among Us).
This situation also touches on a key issue, namely, the intellectual property rights of characters and works, especially in a sector where, for decades, dozens of cartoonists and screenwriters have accused comic book giants Marvel and DC of pressuring them to cede their ideas and accept commissioned contracts.
Willingham sums it up as a policy aimed to make creators sign "work for hire" agreements and crush them. All of this makes a gesture that was already intended to make a splash even more resonant.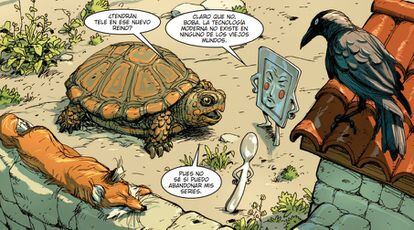 Indeed, the battle over intellectual property is as old as contemporary comics: the copyrights for Superman, Batman and The Fantastic Four all have unresolved disputes and complaints from Jerry Siegel, Bill Finger and Jack Kirby over the contemptuous treatment they suffered. And heavyweight Alan Moore has been lamenting for years that DC took away his ownership of famous works like Watchmen.
Along with prestige and principles, tens of millions of dollars are at stake, especially now that the film industry has become interested in comics.
"When you sign a contract with DC, your responsibilities to them are carved in stone, where their responsibilities to you are treated as "helpful suggestions that we'll try to accommodate when we can, but we're serious adults, doing serious business and we can't always take the time to indulge the needs of these children who work for us" the Fables author wrote on his blog. Following the impact of his original message, Willingham posted two other texts. He maintains that he had thought about sending his work into the public domain when he passed away, but that "certain events" have changed his plans: among them, he lists the changes in management and attitude at the top of the publishing company; the multiple breaches of obligations such as consultations about covers, artists for new plots and adaptations; DC's forgetfulness when it came to pay, which forced him to demand invoices of up to $30,000; the suspicious frequency with which the publisher attributed it to "slipping through the cracks" (to such an extent that the author insisted that they stop using that expression); and the time and chances he gave them to respect the pact, renegotiate it or even break it and consensually separate.
"Shortly after creating Fables, I entered into a publishing agreement with DC Comics. In that agreement, while I continued to own the property, DC would have exclusive rights to publish Fables comics, and then later that agreement was expanded to give DC exclusive rights to exploit the property in other ways, including movies and TV.
DC paid me a fair price for these rights (fair at the time), and as long as they behaved ethically and above-board, and conducted themselves as if this were a partnership, all was more or less well. But DC doesn't seem to be capable of acting fairly and above-board.
In fact, they treated this agreement (as I suppose I should have known they would) as if they were the boss and I, their servant. In time that got worse, as they later reinterpreted our contracts to assume they owned Fables outright," Willingham laments. Hence, he concluded that "you can't reason with the unreasonable."
Having ruled out a lawsuit as too expensive and time-consuming at 67 years of age, he found a more creative solution: if they prevented him from owning his works and benefiting from them as he was entitled to do, he would not let the publisher do so either. Or, at least, everyone could use the comics as they wished. But the label was quick to clarify in its statement to IGN: "The Fables comic books and graphic novels [are] published by DC, and are not in the public domain".
For his part, Willingham promises to continue fighting for all the conditions of his still-in-force contract that he considers DC to have violated, as well as for the last installments of the series, the final script of which he delivered two years ago.
There will be additional chapters in this dispute, as well as in many other ones like it: in 2024, the historic first image of Mickey Mouse, the one that starred in the 1928 short Steamboat Willie, enters the public domain in the U.S. and other countries. Copyright in the U.S. lasts for 95 years, and math is an exact science.
Therefore, in a few years, King Kong, Superman and Popeye will meet the same fate. But The New York Times has wondered how the "notoriously litigious" Disney will react and how far it will go to fight in court. And who would dare to freely use all these works for fear of a million-dollar lawsuit? The same question surrounds DC and similar companies. Because in the real world, fairy tales are rare. Or they end up in court.
---