15 Great Russian Expressions You've Never Heard Of
About the author: For lovers of Russian culture, folklore, and history, Kotar's work is a treasure. The grandson of White Russian immigrants, the 34-year-old is an author of epic fantasy novels inspired by Russian fairy tales. You can see his four books here on Amazon.
He is also a deacon of the Russian Orthodox Church, a professional translator, and choir director at the Holy Trinity Monastery in Jordanville, NY, where he lives. Here is his bio from his blog, where he writes about many aspects of Russia. We highly recommend following it and subscribing to his email list to get exclusive material.
He has an excellent Pinterest page, and you can follow him on Facebook. Here is an archive of his work published on Russia Insider.
---
I'm having a great time getting into the exciting bits of my new novel. Bear-riders have appeared, my main character is in the middle of a huge dilemma, two other characters have lost their families, and another is getting himself stuck in some very dark, bad business (it may or may not involve giants. Or dragons. Or both!)
My second novel, I'm be honest, is a tad dark. So even as I'm writing it, feel the need to lighten it up a bit. In my first novel, unexpected bits of comedy came from secondary characters. I'm trying to do the same in this one. There's one character, a kind of royal bodyguard named Bhuk, who's modeled on a guy I worked with in the kitchens of a monastery in north Russia (true story).
Bhuk can hardly say a single sentence without having some kind of folksy expression in it. It's a very Russian thing. So I thought it might be interesting to find and translate some of the more colorful Russian expressions and find out what they actually mean. Here we go:
The hidden meanings of Russian folk sayings: part 1.
Иван родства не помнящий—Ivan who doesn't remember his family
Literally, it means someone who doesn't like to follow traditions or rules. An innovator (not in a good way). The historical meaning is this. During Tsarist times, police had to deal with runaway prisoners, serfs who were trying to escape hard masters, soldiers who couldn't finish boot camp, various sectarians, and other wanderers with no official papers. These people often hid their real names and places of residence. If asked about their names, they all call themselves "Ivan," and claimed they didn't remember their families.
Толочь воду в ступе—To beat water in a mortar
It means "to beat the air," to waste time doing something useless. The hidden meaning has to do with the supposedly miraculous properties of water. From pagan times, Russians were in awe of water. People used to whisper blessings on water and wait for miracles. But what if someone already mumbled something over the water? Especially if that someone swore when he dropped a jug of it? Water remembers everything!
So the old pagan druids found a way to "erase" the negative information from water. They used to beat water in a vessel for a long time. After a few days of torturing the water, the water was ready to be whispered over and used for magical rites. The druids would use the supposedly magic water for barter. But eventually, people realized that the water didn't do anything special. So after a long time, it became an expression meaning "to waste your time."
Шут гороховый—A pea-green jester
It's a derogatory expression: "stupid idiot," or "moron." The image of the jester of Medieval Europe is well known—wearing motley, a hat with donkey ears, holding a rattle in his hand (the rattle was often a bull bladder filled with dried peas). He would always begin his performances by rattling the peas. In Russia, jesters liked to decorate themselves with dried stalks of pea plants. During the folk celebrations before Lent, an effigy of a pea-green jester was carried around on the streets.
Тянуть канитель—To spin gold thread
Literally, it means to do humdrum work. To work a long time at a monotonous task. So why do you need to spin gold thread? Metal threads, whether of silver or gold, were used in decorations of clothing and rugs. To make it "sewable," you had to make it extremely thin by beating it and pulling it through smaller and smaller holes. The process was laborious and very, very boring.
Делить шкуру неубитого медведя—To divide the pelt of a living bear
An English equivalent might be "to count your chickens before they hatch." The older version of this phrase is "to sell the pelt of a living bear." The meaning is pretty clear—you shouldn't build plans before you know they're going to come through. The source of the bear image is actually from a French fable called "The Bear and Two Companions" by Jean de La Fontaine. The story concerns two fur traders who make a bargain for the pelt of a bear they haven't killed yet. Hilarity ensues. Here's the full fable online.
Съесть Собаку—To eat a dog
The phrase now means to go through bitter experience, and come out the wiser. But originally, the phrase was ironic. Here's the full version: "He ate the dog, but choked on the tail." The expression was used to laugh at someone who had finished a very difficult job, but tripped up at the end over some trifle.
Кричать во всю Ивановскую—To scream over all Ivanovskoe
Literally: "to scream bloody murder." Inside the Moscow Kremlin, the square that has the famous bell tower of Ivan the Great is called "Ivanovskoe". In old times, sextons would announce all public laws, documents, and other official business concerning Moscow and all other cities. These sextons had very loud voices, apparently.
Выносить сор из избы—To carry the garbage out of the hut
Literally: "to air dirty laundry". This one also goes back to pagan rites. The thing is, garbage was never carried out of the hut. It was burned in the stove. Why? People believed that a magician could find out a family's secrets by smelling their garbage. If he really wanted to harm them, he could even bury the garbage in a cemetery (not good!)
Делу время и потехе час—There's a time for work, and a time for play
This one might seem obvious, but there's an interesting historical episode here. In 17th century Russia, the most popular way for a noble to spend his free time was hunting with falcons. Even Tsar Alexei Mikhailovich loved it—he hunted almost every day, except for winter. He even published a set of rules for proper falconry.
In this rulebook, the hunt was praised as an occupation that was very good at banishing sorrow and misfortunes. However, ultimately the Tsar decided that people had started enjoying it toomuch, and government business was suffering. So at the end of his rulebook, he added a warning: "Do not forget the business of government: there is a time for work, and a time for play."
Куда Макар телят не гоняет—Where even Makar won't take his cows
Literally: very, very far away. Here's one version of this saying's provenance. Peter the Great was traveling through Riazan'. He liked to talk to the common people incognito. It so happened that on a certain day, every peasant he met just happened to be named "Makar". The Tsar was surprised by this, then was reputed to say, "From this day forth, you shall all be called Makar!" From that time, the name "Makar" was used as a catchphrase for "peasant man."
Танцевать от печки—To dance from the stove
Strangely enough, this expression means "to act always in the same way, never changing based on newly acquired knowledge." Funny story. A certain man named Sergei Terebenev returned to Russia after a long absence. When he returned, full of nostalgia, he recalled his childhood memories of taking dance classes.
So he's standing at the stove, his feet in "position three." His parents and servants are standing around watching him. The teacher gives the command: "One, two, three." Sergei does the first step, but loses his beat, and his feet get tangled up.
His father says, "O, what a mess! Well, get back to the stove, start dancing again!"
Зарубить на носу—To hack at the nose
This one sounds more violent than it actually is. It means to remember something forever. The image that comes to mind is a poor schoolboy that's standing in front of an angry teacher who threatens him with a finger again and again. The poor boy imagines it's an axe hacking away at his nose. But that's not it at all. Actually, a "nose" is a small wooden board notched by illiterate peasants as a way of remembering important tasks.
Семь пятниц на неделе—Seven Fridays a week
This describes a person who constantly changes his mind. Someone you can't trust. In old times, Friday was market day. Everyone shopped on a Friday. Friday was the day that the goods arrived, and payment was arranged for the followed market day (Friday). Whoever did not come through with the payment was branded with this expression: "For that guy, it's seven Fridays a week!"
But there's a different explanation too. Workers were usually allowed to leave early on a Friday, so a lazy bum was also given this expression. For him, every day was a day off, so to speak.
Вилами на воде написано—Written on water with a pitchfork
Literally: "a very doubtful event." There are actually two explanations for this expression. "Vila" (the Russian word for pitchfork) is also another name for Russian mermaids, dangerous spirits who were said to drown young men (they also show up in chapter 3 of my new novel). If you saw them writing on the water, you could be sure that what they wrote would come true.
The second meaning refers to pitchforks as ritual objects used by druids. The three points of the fork were said to symbolize the essence of the god Triglav (literally, three-headed one). Druids would use them to "draw" runes on water as part of their magic rites. Of course, when nothing happened, people started to give the action its opposite meaning.
Отрезанный ломоть—A cut-off piece of bread
This refers to someone who has become independent—a daughter given to a husband who lives very far away, or a son whose started his own family and never comes to visit his parents.
Interestingly, in old times bread was never cut, because it symbolized life. You should only ever break pieces off. So the expression "cut-off piece of bread" is a real historical oxymoron.
Stay tuned next week for more linguistic madness from the Russians! The original Russian article can be found here.
Ramón Estévez regrets his name change to Martin Sheen | Culture
At the beginning of the sixties, Ramón Estévez was desperate. His first steps as a television actor had gone well, but he felt stuck in that medium and wanted to get into theater and film. However, at the time, his name held him back: there were few successful Latinos in the United States. "Whenever I called for a position, whether for work or for an apartment, they answered me hesitantly when I gave my name, and when I arrived, I found the position already filled." He said in 2003. And so, Ramón decided to create an artistic name by merging the name of Robert Dale Martin, the CBS network's casting director, who had helped him in those essential appearances on the small screen, and that of Bishop Fulton J. Sheen, who, as Estévez's little sister Carmen recalls, "regularly appeared on TV."
This is how Martin Sheen came about, and owing to his great talent, he triumphed first in theater and, later as an actor in the movies, notably: Badlands, Apocalypse Now, The Departed, and Wall Street. However, the identity of Ramón Antonio Gerardo Estévez did not disappear: this name remains in all of Sheen's official documents (passport, driver's license and marriage license)… and in the actor's soul. Last week, in an interview with Closer magazine, he confessed that one of the great regrets of his life was his change of name. He speaks with pride of the obstinacy of his son Emilio, who kept it despite "his agent's advice to change it". In relation to his own decision, he reflects: "Sometimes they convince you, when you don't have enough insight or even enough courage to stand up for what you believe in, and you pay for it later."
Over time, Sheen recovered his Galician roots, the land where his father, Francisco Estévez Martínez, was born. His father was an immigrant who left Parderrubias, in Salceda de Caselas (Pontevedra), for Cuba at the age of 18 in 1916. He left with no Spanish, a language he learned on the Caribbean Island. In the early 1930s, he emigrated to the United States to a modest Irish neighborhood in Dayton (Ohio), where he married another immigrant, Mary-Ann Phelan.
Martin Sheen's life has been profoundly marked by his childhood. His father worked at NCR Corporation, an industrial conglomerate that began manufacturing cash registers. Shortly after his marriage, the company sent him to the Bermuda Islands where his first children were born. Sheen was the seventh of ten children (nine boys and one girl), and the first to be born in Dayton, in 1940, after the family moved to the US. His left arm was clasped by forceps during birth, leaving it three inches shorter than his right arm. As a result of this, the character that Sheen interprets in the series The West Wing of the White House, President Josiah Bartlet, puts on his jacket with a strange twist of the body. As a child, he suffered from polio which kept him bedridden for a year, and at the age of 11 his mother died. Thanks to the support of a catholic charity and his own father's efforts, the family remained united against the distribition of children to orphanages or foster homes, a common practice at the time.
He was the eccentric of the family: he decided to go into acting. Against his father's objections, Ramón, the most reserved son only enjoyed the theater and decided to study acting. "You don't know how to sing or dance!", his father told him, to which his son replied: "You love westerns and in those nobody sings or dances". "But you don't ride a horse either!" was his father's comeback. Despite this discouragement, he moved to New York, following in the footsteps of his idol, James Dean.
In the mythical episode Two Cathedrals of The West Wing, he explains how the character President Bartlet reflects the experiences of his own childhood and adolescence. Estévez/Sheen: a practicing Catholic and relentless campaigner against global warming, a man in favor of civil and immigrant rights, he was arrested several times during demonstrations outside the White House. His activism began when he was just 14 years old in a golf club where he worked. He led a strike of caddies, protesting against the club members' use of bad language in front of children.
And then there's the Spanish context. Francisco Estévez did not teach his children Spanish, but the Estévez family went back to their roots. Francisco was able to return to his hometown in Galicia in 1967 (just as Sheen landed his first big role in In the Custody of Strangers), where he began building a house, while making regular trips back to Dayton. He would never see this house finished. He died in Dayton in 1974, and was buried with his wife and son Manuel, who had died in 1968. His only daughter, Carmen, ended up working as an English teacher at a school in Madrid, where she married. For years people in Madrid have bumped into Sheen during his visits to his sister. Carmen finished building her father's house and inaugurated a river promenade dedicated to his memory. Indeed, she has kept the memory of the Estévez alive in Salceda de Caselas.
The Camino de Santiago, a dream come true
In the early years of the 2000s, Sheen, his son Emilio Estévez and his grandson, Taylor, walked the Camino de Santiago. In Burgos, the grandson met a girl, and at the end of the walk he decided not to return to Los Angeles, but to remain in the Castilian city, where he got married. Influenced by that experience, Sheen and Estévez made the film El camino (2010), in which both co-starred and the latter directed. A few months ago, Sheen spoke proudly of El camino, a great success, and a faithful portrayal of his spirituality. During filming, at a lunch under huge pergolas at the back of Burgos cathedral, Sheen explained: "I am a Catholic, and a lot of that spirituality is in this movie. I have had an extremely happy life, with the normal highs and lows of a career. I have survived disease and my family is wonderful [his four children, including Charlie Sheen, are actors]… I believe in a church that does incredible work in the Third World. Other things, like some of the pronouncements from the Pope [at that time, Benedict XVI], are more difficult for me. I live my faith, and it is between God and I." A few meters from Sheen and the journalist, at the long tables, was a strange group that didn't not look like actors: "That's my wife, that's my sister and her husband, that my best childhood friend… I've invited them to come and have a good time with Emilio, Taylor [who worked as an assistant] and me". Taylor Estévez currently works as a stunt coordinator in California.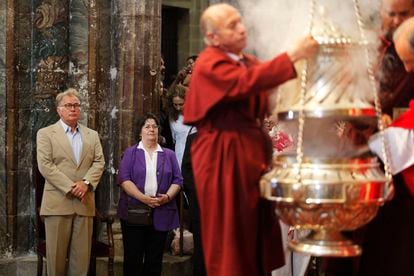 Carmen Estévez says that for decades the family did not understand their father's deeply Galician sense of humor, until they realized that for much of the time he was not being serious. This sarcasm was inherited by his son Ramón/Martin, and he made a display of this in Burgos. In response to a question about his career, he said: "With my resume full of bad movie titles, what can I say. I'm an actor and that's how I've supported my family. But I've been in about 10 films that I can be proud of…" at which point he dropped his cup of coffee and blurted out: "See? For gloating over my career. Divine punishment".
Buzz Lightyear: To Lesbians and Beyond | Culture
The first homosexual kiss in a Disney movie has been more than expected. Many of us wanted to see it in Frozen: some interpret the ice princess's song "Let it Go" as a reference to being gay. Lots of people awaited it in Luca, where the love between protagonists Luca and Alberto was at times more obvious even than that of the cowboys in Brokeback Mountain. We longed for a legendary, effervescent kiss, the fruit of a rebellious and passionate love. It was going to be a vindictive kiss, full of fireworks. It would be one of those kisses that precede the mythical The End, when the screen fades to black behind the lover's mouths. It was a kiss that was going to take everything over. Above all, it was going to be the great kiss of the 21st century, undoubtedly the century of homosexual visibility and the century of the gender revolution, the moment when women fall in love and kiss for the first time and do all of it on the big screen. (Well, not all of it.)
The first lesbian kiss in Disney history appears in the recently released Lightyear, and it has sadly led to the censorship of the film in 14 countries in the Middle East and Asia. The kiss takes place in 1995, that is, 27 years ago. The first homosexual kiss of the Disney Pixar factory recognizes that it is years late. It is a 90′s kiss. It comes not from the 21st century, but the 20th. How? The film starts with the following premise: in 1995 Andy, the protagonist of Toy Story, went to the cinema to see Lightyear. This is the movie he saw then. Lightyear, therefore, is not the end of the saga but its prequel. In addition, the controversial kiss does not happen between a young protagonist and her girlfriend, but between two mature women who have been married for years. We are not facing a rebellious kiss, much less a political or ideological one. This kiss is not intended to be a novelty or to make anything visible. It is an absolutely conventional gesture. Thank you, Disney Pixar for going beyond my wildest dreams when it comes to normalizing visibility. And thank you for listening to your workers and refusing to remove the scene. In the long run, it will be more profitable to sacrifice box-office earnings than dignity.
In addition to being between two women, the kiss happens between two mothers, on the day that they celebrate their son's birthday. It is not the classic Disney kiss, a culmination of the romantic love between the leading couple, but a stolen moment of quotidian happiness. It is a fleeting kiss, insignificant in the history of lovers. It lasts just seconds. It is not charged with any special meaning in the love story. It speaks of a way of building affections and meaning different from that imposed by the traditional heterosexual canon: seemingly unimportant gestures of are everything. It represents a kind of love where kisses do not represent a turning point in the lovers' lives, but rather small anchor points in their story history. In this gesture, romantic love is not ultimately the center of life but part of it. In Lightyear, we witness the anodyne kiss on the lips between space explorer Alisha Hawthorne and her wife, and we realize that partners are not at the center of any story, but rather one of those fragments that give meaning to life. It is a sapphic kiss in the sense that it is another way of building love, more horizontal, quieter and healthier.
Alisha—a female, lesbian and black—does not have as much screentime as Buzz Lightyear—male, white and the story's protagonist. She is the protagonist's friend, confidante and inspiration. Together they are trapped on an uninhabitable planet due to a mistake he made. From that moment on their lives run parallel but radically different–almost like the story of lesbian and heterosexual love. She adapts to the circumstances and begins to live the life that has befallen her, without rejecting its difficulties. The conditions are not the best, but Alisha falls in love–with a woman–and celebrates her luck. Together they have a son. Along the way, she takes care of those she loves, she has a granddaughter, she fights and she investigates. She fills her life with meaning, and she dies. Buzz, on the other hand, insists on "finishing the mission," "being important," "saving the world," "succeeding," "being a hero," "doing things alone" and "being the first." Buzz, who will never know love, embodies many of the traditional values of heteronormative love, starting with the desire for protagonism and the sense of a linear life narrated through love or milestones, leading only to deep, intimate failure.
Lightyear attempts to travel into space to escape from the planet where he is trapped, failing over and over again. Additionally, though, time is altered every time he subjects his ship to hyperspeed. Every time he returns, a few minutes have passed for him and a few years–four, ten or twenty–for Alisha. He burns through life, while she lives it. In one of the final moments, Buzz Lightyear explains to Alisha's granddaughter why he and her grandmother became space rangers. "We just wanted to be important," he says. "Trust me, she was," she says. And the hero understands that his whole life has been a huge misunderstanding. He will have to return home, knowing that his home is the one he has tried to flee all his life.
The film is a masterpiece, full of action, emotion, humor and imagination. Its commitment to diversity includes a warrior over seventy years old, a rebel whose role is essential in saving the world. No one is talking about the old woman for the simple reason that old age remains invisible even when it occupies the center of the scene. The film also gives us Sox, an adorable robotic cat that demonstrates how the only technology that works is that which helps people, not that which attempts to change them. It is truly one of the great Pixar movies, much more than action and stars.
At this point, it had gotten hard to explain why we humans want to keep going to infinity and beyond. But there is a moment, at the end of the film, when we understand: when the elite protectors of the universe excitedly observe the bronze statue of Alisha, a black lesbian woman, the source of meaning for humanity, because she is the one who knew how to live a small life with greatness.
George Michael revisited: binge-eating ice cream, sex and ecstasy | Culture
George Michael abhorred fame and avoided interviews. Over his 30-year career, the singer of "Faith" released only four studio albums as a solo artist. But his figure left a lasting impact on popular culture. The public's fascination with him lingers even today, as demonstrated by the recent release of both a documentary and a book about his life, just when the artist would have turned 59. The two works depict the pop star's life from dramatically different perspectives.
The musician himself worked on the film George Michael: Freedom Uncut with his former collaborator, David Austin. It follows the career of one of the best voices in pop, starting in the eighties and ending in 2016, the year of his death. Narrated in the first person, the documentary gives a partial glimpse of the star. In contrast, journalist James Gavin's book George Michael: A Life explores the singer's dark side in great detail. The biography chronicles Michael's addiction to GHB, also known as liquid ecstasy, his depression and his dependence on sex. According to the account, Michael spent his later years sinking into drugs and prostitution and alienating his friends, including Andrew Ridgeley, the other half of Wham!. Gavin spoke with more than 200 friends and acquaintances of the artist, resulting in a portrayal of an emotionally fragile and insecure man. According to the author's thesis, which several friends corroborate but his family denies, the performer died not of a heart condition, as was said at the time, but of an intentional overdose: suicide.
The documentary film focuses on the eighties and nineties, the artist's creative peak. The book, meanwhile, primarily describes his last years of life, when he made headlines more for his arrests than for his music. Both are pieces of a puzzle that the artist created before the public over three decades.
It is difficult to understand the career of George Michael, who would turn 59 this June 25, without delving into his biography. Born Georgios Kyriacos Panayiotou in 1963, he rose to worldwide fame alongside his school friend Andrew Ridgeley. Together they formed Wham!, a group adored by teenage girls and despised by critics. Michael enjoyed a global fame that he never wanted. He felt undervalued as an artist, relegated to the status of a teen star. He also didn't take well to playing the role of a heterosexual idol in order to sell records to the female public. He was ready to embrace his sexuality, but society wasn't. At the time, both Elton John and Freddy Mercury were married to women. In Spain, Miguel Bosé walked hand in hand with Ana Obregón. A mainstream artist couldn't afford to be gay.
Still, George Michael represented his sexuality with a certain impudent joy in public. In his later years, looking back, Michael said his sexuality had been an enigma, even to him, but his music was always honest. "I do want people to know the songs I wrote when I was with women were really about women and the songs that I've written since have been fairly obviously about men," he said. "So when it comes to my work I've never been reticent about defining my sexuality." George Michael was sex. His music was too.
On his first solo album, he broke away from his good-boy image to present himself as a sexually liberated man–in a trajectory later imitated by many pop artists, including Britney Spears and Christina Aguilera. His first solo song, "I Want Your Sex," was dedicated to a man, but his then-girlfriend, makeup artist Kathy Jeung, appeared in the music video. "[Kathy] was in love with me but she knew that I was in love with a guy at that point in time. I was still saying I was bisexual," he explained in a 2004 interview with the British magazine Attitude. The song caused controversy for defending promiscuity in the harshest years of AIDS, and its explicitly sexual lyrics were censored on several radio networks.
In the music video for his second single, "Faith," Michael played the role of the American macho, wearing a leather jacket, jeans and cowboy boots, combined with close-ups of his butt swaying to the beat. The singer was asserting himself as a mature composer. At the same time, he was sexualizing himself. The song made him a worldwide success. He began to rub shoulders with pop royalty, including Michael Jackson, Madonna and Prince. At that time, pop stars were at the heart of popular culture. But only George Michael used his role to confront record companies and eventually renounce media overexposure.
If singers were kings, MTV was their palace. In the 1990s, a good music video could boost a song's sales and its artist's fame. That's when George Michael decided to disappear. He barely promoted his long-awaited second album, much less commercial than the first. Its first music video, "Freedom," featured the five most important top models of the moment. The video was directed by first-timer David Fincher, who before revolutionizing Hollywood already revolutionized MTV. It has gone down in history as one of the best video clips of all time.
Freedom: Uncut, the new documentary, focuses on that creative stage of the singer. Some of the participants in that video, such as Cindy Crawford, Kate Moss and Naomi Campbell, give interviews about Michael, and the film includes discarded footage that Fincher did not use. While the documentary focuses on his art, it also touches aspects of his personal life, including the deaths of his mother and Anselmo Feleppa, his great love, who died of complications from AIDS in 1993.
The two deaths had a devastating effect on Michael, and they triggered the spiral that Gavin focuses on in his book. The author calls the singer a "pathetic, lonely and broken figure."
George Michael did not publicly come out of the closet. He was wrenched out in the most shameful way possible. In September 1998, a plainclothes officer made a pass at him in a public restroom in Los Angeles, California. When the artist played along, he was arrested. Searching him, police found marijuana and crack. The former leader of Wham! was fined only $810, but the media's penalty was devastating. Tabloids on both sides of the Atlantic lashed out at him. It was no longer the eighties, but a scandal like that could still end anyone's career. He explained himself the best way he could: with a song. The video clip for "Outside," the single from his greatest hits album, was based on the famous incident. It portrays several men dressed as police kissing in the bathroom of a club, while a press helicopter records different couples having sex. Michael took control of the narrative, as sexual and as honest as ever.
But no song could silence the news that followed. A few months later, the musician was arrested again after a car accident. The police found him "drenched in sweat" with "eyes open and pupils dilated." It was his seventh arrest in 12 years. In the biography, Gavin expands on this stage, at the time portrayed by the press at the time in a disjointed and sensationalistic way. The author places it in the context of the impulses of a depressed, frustrated man taking refuge in drugs and sex. "For Michael, GHB seemed heaven-sent," the journalist writes about the drug, a central nervous system depressant closely associated with sex parties. "Apart from fueling his sexual compulsiveness, it made a depressed, self-hating man feel attractive. It brought joy where there was little. GHB gave him confidence … but it also took him to a new and terrifying level of self-destruction."
Gavin describes one of the music industry's brightest stars as a lonely, friendless man, secluded in his mansion. He spent his days watching episodes of his favorite soap opera, Coronation Street, while binging on Haagen Dazs ice cream and junk food and using GHB. The author writes that the singer held parties with prostitutes and large amounts of drugs in his mansion in north London.
The journalist's description is consistent with statements made this week by Kenny Goss, who had a relationship with the singer between 1996 and 2009. In an interview on the English program Piers Morgan Uncensored, the art dealer recounted that everyone around him knew that Michael would die soon. "I spent a lot of time worrying about him," he recalled. "What's the line he says in one of his songs? He says, 'I can see it in your eyes when you look at me that way, it tears me in two'. And it really did."
George Michael died on Christmas day of 2016. The official report says that the death was due to heart failure. His fans remembered him with "Last Christmas," a song that many read as a Christmas carol, but which actually tells a tragic story about heartbreak and distrust. "All my songs are autobiographical," the singer used to say.